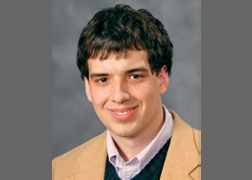 View all spotlights
Young alumnus, student believes in giving back
Josh Wilberger, 26, graduated from Virginia Commonwealth University in 2009 with a bachelor's degree in marketing. He is now pursuing another bachelor's, this time in foreign language with a concentration in Spanish, and a master's in business with a concentration in global marketing management. Although he is still enrolled as a student, Wilberger has already started giving back to VCU.
One of the main tenets that stuck with Wilberger when he became an Eagle Scout years ago is the idea of leaving things better than when you found them.
"Higher education is at a crossroads. It's a paradigm shift. For students in the future to have the same experiences I've had, which have been great, that financial support needs to be there to continue for the next generation," he said.
Wilberger wants to contribute to a stronger foundation for students to get grants for undergraduate research, study abroad and financial aid.
"Whatever way the money is used, I recognize it is a crucial factor."
Michael P. Andrews (M.S. '05), director of annual giving at VCU, appreciates Wilberger's commitment, especially at such a young age.
"Private donations from our alumni base are more critical now than it has ever been with the reduction in federal and state support," he said. "Although many of our alumni put themselves through school, worked multiple jobs and struggled to find financial assistance, Josh and those like him will help provide transformational opportunities at VCU."