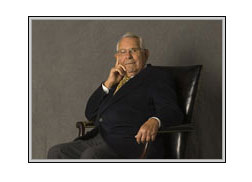 View all spotlights
Local foundation supports VCU and the Richmond community
The Harriet and Harry Grandis Family Foundation has been an invaluable part of the Richmond community for many years. Harry Grandis has shown his support for organizations such as the Children's Museum of Richmond, the Virginia Home for Boys and the Virginia Museum of Fine Arts.
The Grandis Foundation has been especially generous to Virginia Commonwealth University, giving more than $505,057 to the VCU Massey Cancer Center, the School of Medicine, VCU Libraries and the Humanities and Sciences Department. Their largest gifts, however, have been made to the Massey Cancer Center. Most recently, Grandis made a $150,000 gift to establish the Grandis Lung Cancer Research Fund at Massey. The research fund will support the team of specialists at Massey who are dedicated to chest tumor research and treatment.
In 2000, Grandis was the recipient of the Wayne Medal for his extraordinary generosity to VCU throughout the years.