Practice makes perfect
The new Basketball Development Center has transformed not only the player experience but also the future of the university's game
By Brelyn Powell
When Virginia Commonwealth University opened the 62,000-square-foot Basketball Development Center in October 2015, it was a game-changer for the men's and women's basketball teams in every way, providing a state-of-the-art space for everything from morning practices and weightlifting sessions to afternoon naps and team meals.
"It's a place for these athletes to not only work on their craft but to bond as a team," says Daniel Ludwin, who was introduced to VCU basketball in 2009 by his friend David Boardman (B.S.'91/B). After just one game, Ludwin declared himself a "rabid Ram fan."
Ludwin and Boardman both made pledges to support the construction of the practice facility. With private donors like them funding $14.5 million of the building's approximate $25 million cost, the Basketball Development Center was the largest private fundraising project in VCU Athletics history.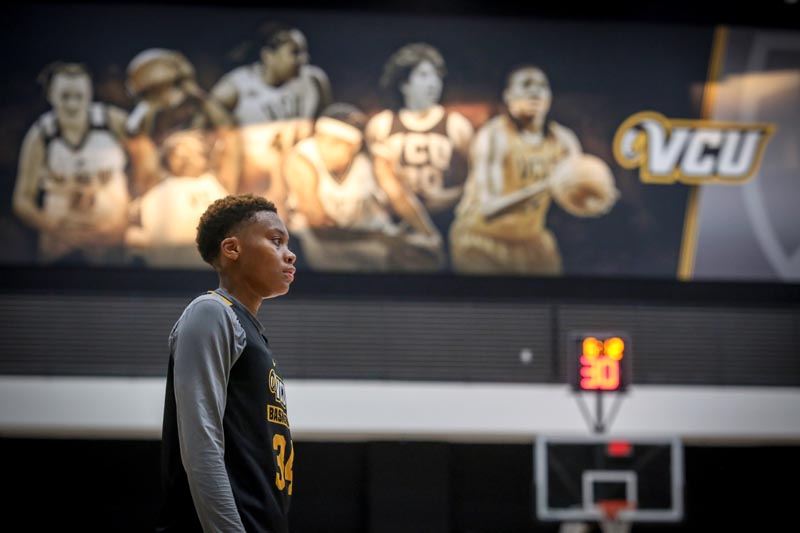 "We pride ourselves at VCU in developing student-athletes into the best versions of themselves, and our supporters make that possible," says Ed McLaughlin, associate vice president and director of athletics. "This facility is one of the top five in the country."
Keira Robinson, a senior mass communications major and point guard on the VCU Women's Basketball team, says that the convenience of the facility has made it easier for her to manage her long and rigorously scheduled days as a student-athlete.
Here, she gives us a player's-eye view of the new facility's accommodations.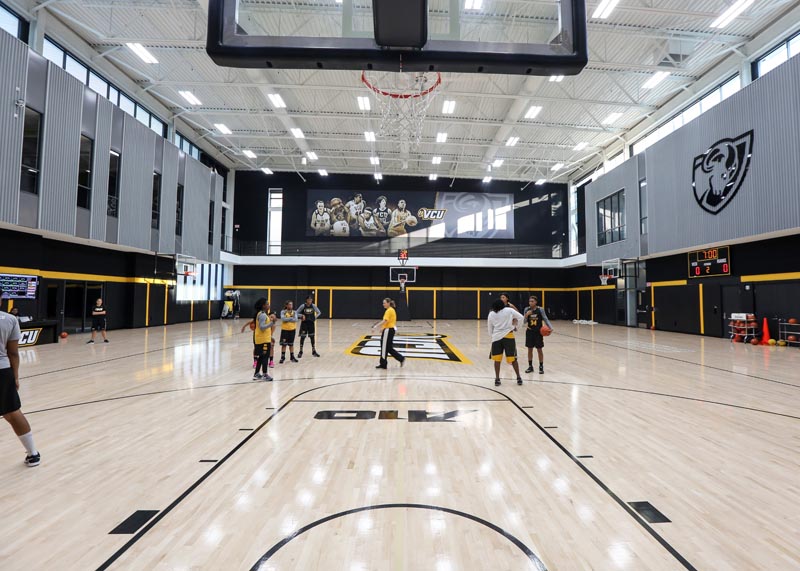 Robinson's day begins with an early morning practice with her team - mates on a court that is exclusively theirs – the new facility houses separate but identical courts and locker rooms for the men's and women's teams.
"Both teams have access to the same quality of practice space," says Beth O'Boyle, head coach of the women's basketball team. "We want our women and men to have the same experience."
VCU basketball players shared practice space in the Franklin Street Gym with several other VCU sports teams until the new facility opened last year. Now the athletes have 24-hour access to their own gym, which enables them to work on their game whenever and as often as possible.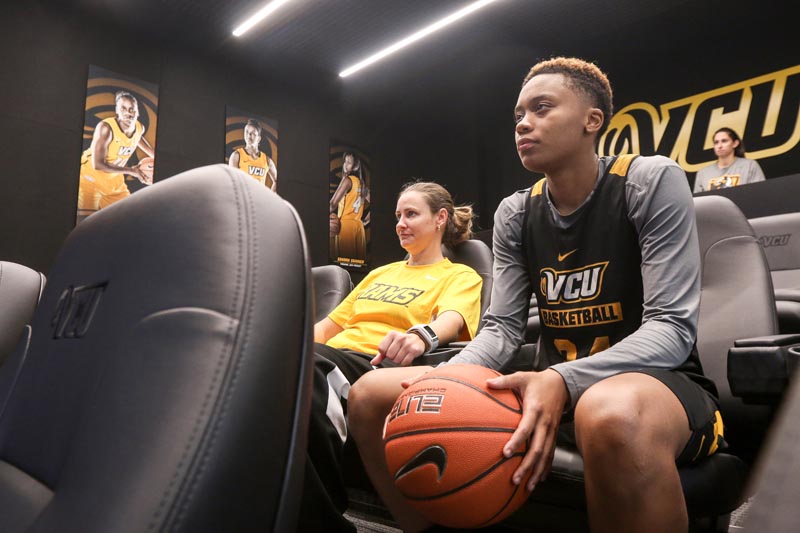 The practice courts are equipped with five cameras to record practices and workouts. Each court has an adjoining film room for coaches and athletes to review practice footage and assess their performance as individuals and as a team.
O'Boyle sees the facility's technology and equipment as a tool for recruiting top athletes to VCU.
"We didn't have anything like this before," she says. "When potential recruits see this facility, they know it will allow them to train, grow and be competitive against some of the best teams in the country."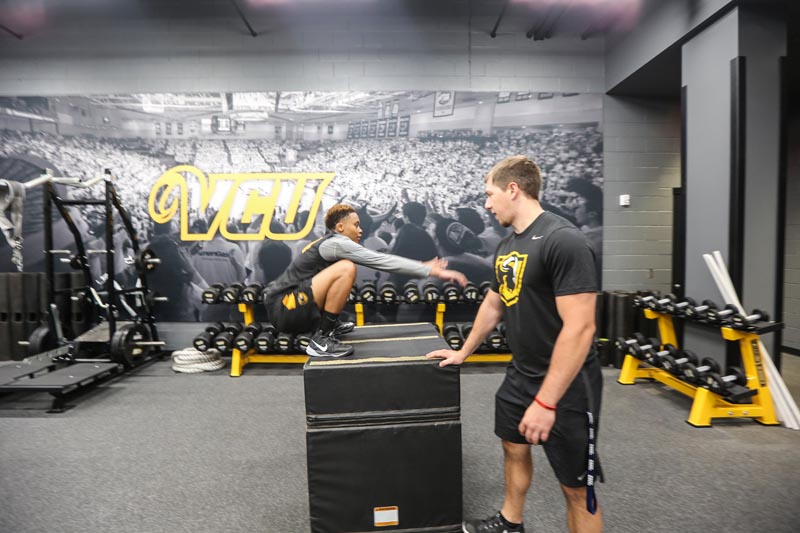 Robinson continues her training in the strength and conditioning area with Buddy Donnelly (B.S.'14/ H&S), director of sports performance for women's basketball. Donnelly works with the players to build the strength necessary to improve their skill.
"We have access to some of the best equipment, and it shows on the court," Robinson says. "Whenever I want, I can come in here and do what it takes to get stronger and faster."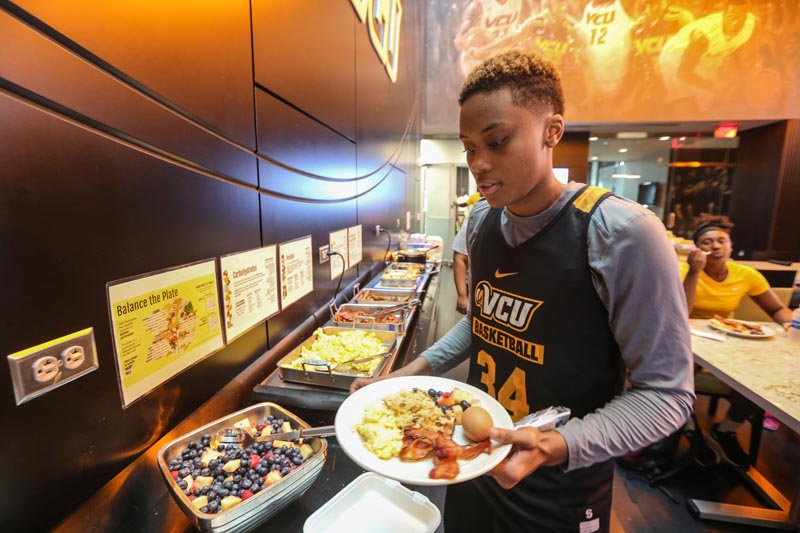 After a morning of training, Robinson heads to the facility's dining hall, which offers the men's and women's basketball teams buffet-style meals. As she enjoys breakfast with her teammates, she explains that the new practice facility does more than just support the teams' athletic development. Coaches' offices and several quiet spaces enable the student-athletes to meet with their academic advisors and stay caught up on school work.
A lounge area featuring televisions, gaming systems and an air hockey table gives the players a place to unwind and socialize. This area includes several large, plush bean bag chairs – Robinson's favorite place to sit.
The facility's sports medicine area has a hot tub, a cold tub and a hydrotherapy tub. An adjustable treadmill platform in the hydrotherapy tub lowers players into the water for low-impact cardiovascular training while cameras monitor their movements.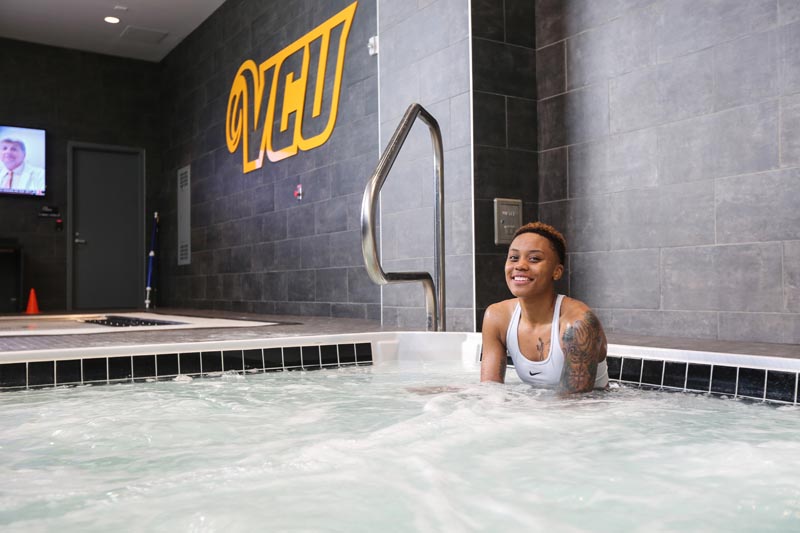 "When the season picks up, we don't always have time to let our bodies rest between games," Robinson says. "This [equipment] helps us take care of ourselves and prevent injuries."
Unless she is attending class or sleeping in her dorm room, Robinson is in the Basketball Development Center, and she is grateful for those whose contributions made the facility possible.
"They show up at games and are always cheering for us," she says. "They present us with the opportunity to strive for greatness."