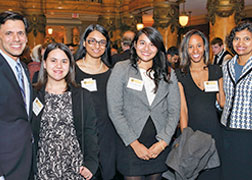 View all spotlights
Award recipients share gratitude with donors
More than 350 Virginia Commonwealth University scholarship donors and student recipients gathered in February for the 15th annual Monroe Park Campus Endowed Scholarship Dinner at The Jefferson Hotel in Richmond, Virginia.
Hosted by the VCU Foundation, the School of Business Foundation and the College of Engineering Foundation, the event brought students and donors together in an atmosphere of gratitude and celebration.
Guests enjoyed dinner and remarks from VCU President Michael Rao, Ph.D., who thanked donors for their continued investment in the success of VCU students.
Students Dan Metz (B.S. '14), recipient of the Altria Scholarship, and Kellie Masters (B.S. '14), recipient of the Charles G. Thalhimer Family Endowment Scholarship, also expressed their gratitude.
"Receiving the Thalhimer Family Scholarship for my senior year was hugely impactful for me," Masters said. "Instead of worrying about paying the bills and putting food on the table, I was able to pursue my passions, find a job in my industry for the experience and get involved in the School of Business by taking a leadership role in a student organization. In short, the Thalhimer family's investment in me has allowed me to invest in my future in ways I could never have before."