It takes two
Alumni couple honor their roots with equal merit-based scholarships in Arts and Social Work
By Brelyn Powell
If there's one thing that Jane (B.F.A.'68/A) and Robert "Will" (M.S.W.'69/SW) Hatcher have learned in their 54 years of marriage, it's that their partnership is stronger when they make joint decisions.
"Good compatibility improves our relationship, and our compatibility scores go up with every decision we make together," Will says.
One choice in particular has strengthened not only the bond they have with each other but also the one they have with their alma mater. In 2000, the Hatchers created two endowed scholarships in the Virginia Commonwealth University schools from which they graduated.
"Social work and the arts share some of the same core values," explains Jane, who majored in art education and taught middle and high school art after graduation. "Both fields encourage freedom of expression and finding unity in diversity."
Will, who applied his social work background to his career in mental health, agrees.
"Both disciplines serve to increase our understanding of the human experience, whether that's through art exhibits, music or working with people struggling through challenging circumstances," he says.
Will's career goals would have been hard to reach without the financial assistance he received along the way, he says, so providing such an opportunity to other students is important to him.
"I received a scholarship from the South Carolina Mental Health Department, and it made a big difference," says Will, who worked in the South Carolina State Hospital's adult psychiatric ward and in a special unit for the treatment of children after he graduated from VCU. "Receiving that kind of support made it possible for me to complete my education, and I know my educational and profession-al experiences would not have been the same without it."
Over the years, the couple has given more than $50,000 to the Hatcher Merit Scholarships, which are awarded annually to one meritorious, full-time, first-year student from each school and are renewable for three years, provided the recipients remain in good academic standing.
"Merit-based scholarships encourage and acknowledge the efforts of exceptional, high-achieving students," says Shawn Brixey, dean of the VCU School of the Arts. "These awards demonstrate that we recognize their capabilities, respect their achievements and believe in their continued success."
Here, two former Hatcher Merit scholars discuss the paths they have taken since graduating and how scholarship support helped them along the way.
CAMPBELL ARGENZIO
Hatcher Merit Scholarship in Arts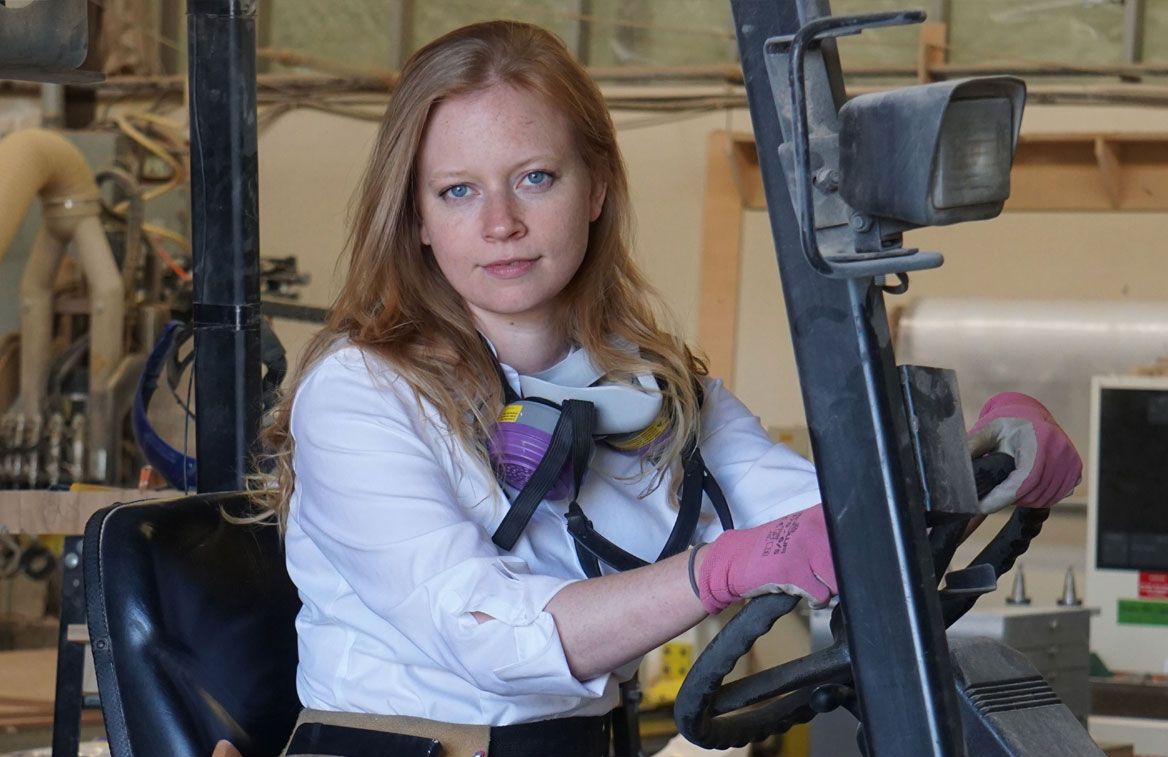 Since graduating from the VCU School of the Arts with a degree in interior design, 25-year-old Campbell Argenzio (B.F.A.'15/A) has branched out in ways that combine different facets of her undergraduate education.
She describes her work as "varied in scale and interdisciplinary in medium, with an architectural focus." Many of her latest projects are in digital fabrication, a design and manufacturing process with computer-controlled production machinery.
"Digital fabrication is sort of an intersection of interests I discovered in undergrad – design, woodworking and engineering," she explains.
For the past two years, Argenzio has lived in New York City, working at a custom architectural fabrication shop, Associated Fabrication. This September, however, she will travel to Japan to begin a two-year graduate program studying architecture at the University of Tokyo.
"The program is research-focused and involves a lot of experimental technology, so I'll get to take a deeper dive into digital fabrication while I'm there," she says.
As a student at VCU, Argenzio took advantage of the diverse course offerings in the School of the Arts, a facet of her education that she credits with preparing her to take on a challenging architectural graduate program. Receiving the Hatcher Merit Scholarship gave her the flexibility to explore even further through unpaid experiences such as internships and artist assistantships.
"It's nice to know that people care," Argenzio says. "Knowing that someone believed in me enough to invest in my success motivated me to seize as many opportunities for experience as possible."
To learn more about the School of the Arts, contact Julia Carr, executive director of development, at (804) 827-4676 or carrj@vcu.edu.
VICTORIA YEROIAN
Hatcher Merit Scholarship in Social Work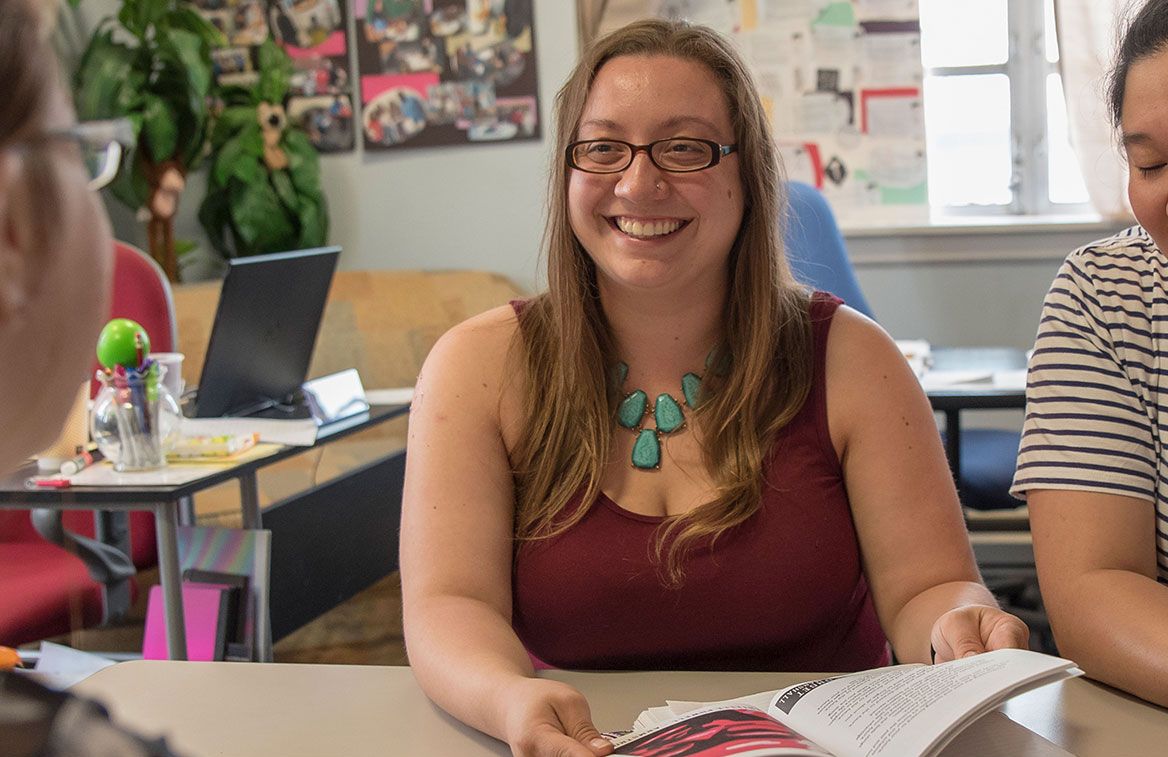 In her small hometown of McGaheysville, Virginia, Victoria Yeroian (B.A.'13/H&S; B.A.'13/SW; M.S.W.'14/SW) was a top-performing student.
"I guess I sort of felt like a big fish in a small pond," says Victoria, now 26.
But when she arrived on campus at VCU as a freshman, Yeroian found herself in a much larger pond. Receiving the Hatcher Merit Scholarship in Social Work that year renewed her confidence in her academic abilities and compelled her to work even harder.
"It reaffirmed what I knew I was capable of achieving, but it also made me feel like I needed to be involved in the community, doing work that was deserving of such an award," she says.
With scholarship support, Yeroian could afford her tuition expenses without having to take a full-time job, allowing her to make time for valuable internship and volunteer opportunities.
For three years, she interned with the Podium Foundation, a local nonprofit that hosts writing workshops for Richmond, Virginia-area students to facilitate exploration in literary arts and help them improve writing and communication skills. After she completed her master's degree in the VCU School of Social Work, she joined the Podi-um Foundation full time, as programs director.
"A lot of my motivation and confidence stems from the positive reinforcement that comes with being awarded scholarships as a student," says Yeroian, who also teaches part time in VCU's political science department. "If not for those, I wouldn't have been able to afford many of the opportunities I had as a student."
To learn more about the School of Social Work, contact Mary Riddick, director of development, at (804) 828-7166 or riddickm2@vcu.edu.
TWICE AS NICE
Like the Hatchers, these other donors have divided their support equally between two complementary disciplines at VCU.
Who: Dabney (B.S.'75/H&S) and Joseph (B.F.A.'76/A) Cortina
What: The Dabney and Joseph Cortina Scholarship
Where: The Richard T. Robinson School of Media and Culture and the School of the Arts
Why: "The conversion of these media is one of the main reasons we have arranged our giving for both the media school and the art school," Joseph Cortina says. "VCU's excellence in both these disciplines makes it a rich area of collaboration in the future."
Who: Patricia (B.S.'77/H&S) and William Wilkerson, Jr.
What: The Walters-Wilkerson Memorial Gerontology Scholarship and the Rachel Wilkerson Memorial Scholarship
Where: The College of Health Professions and the School of Social Work
Why: "Students pursuing a Certificate in Aging Studies in social work, as well as those studying gerontology, will go on to work closely with aging adults in their professions," Patricia Wilkerson says. "These scholarships can help them gain the education and experience that will prepare them to be effective in serving and caring for older adults in their careers."
Who: Harry Shaia Jr.
What: The Harry and Zackia Shaia Annual Scholarships
Where: The School of Medicine and the School of Pharmacy
Why: "Pharmacists often serve as a point of contact for patients who have questions about medications prescribed by physicians, so it's important for there to be communication across the spectrum of patient care," Harry Shaia Jr. says. "Both medical and pharmacy students work hard to master the skills they'll need, often making considerable sacrifices to complete their academic requirements and prepare for careers in health care. It's been a meaningful endeavor to be supportive of their efforts."