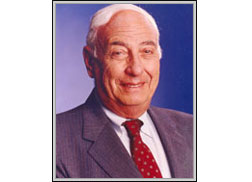 View all spotlights
A $2.5 million gift establishes the Kornblau Institute in the VCU School of Busi
A transformational $2.5 million gift from Sam Kornblau will establish a real estate institute in the VCU School of Business. The Board of Visitors voted in November 2006 to name the new initiative The Kornblau Institute.
The institute will focus on research broadly related to commercial and residential real estate. These issues often benefit from an interdisciplinary approach and include such concerns as land use, housing and commercial development. "The real estate institute will leverage the expertise we have across the university," President Trani said. "Sam Kornblau's vision for the institute is in lockstep with VCU's mission as a leading urban research institution."
For his part, Kornblau said he is especially pleased that the institute will provide independent research for entities planning growth. "Hopefully, this gift will see something much bigger than I've started," he said, explaining that he hopes it will serve as an impetus for other industry leaders to offer funds for research in commercial and residential real estate and related interests.
For nearly 60 years, Kornblau has been in the real estate business, building single-family homes, shopping centers and apartment communities. He is chairman of SAMCO Development Corp.