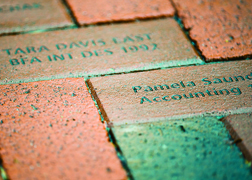 View all spotlights
Pathways donors now locate their bricks online
For nearly 10 years, the Pathways Brick Campaign at Virginia Commonwealth University has offered alumni and friends a way to leave a lasting mark on campus.
More than 1,400 alumni and friends have purchased personally inscribed bricks, installed in Shafer Court, to honor their parents, friends, accomplishments, faculty … even pets!
Finding the bricks after installation, however, proved to be a challenge for the owners, said William "Ike" Tucker (M.Ed. '06; Cert. '06), associate director of annual giving. That changed this summer.
"Over the summer we introduced new functionality on the website to help our donors find their bricks," Tucker said. "It's easy to do by using the 'locate a brick' tool on the site. There's also a 'construct a brick' tool to take users to an online order form."
Funds from brick purchases help the VCU Foundation support academic programs on the Monroe Park Campus and assist with the VCU Inger and Walter Rice Center for Environmental Life Sciences, The Honors College and the Department of Intercollegiate Athletics, for example.
To locate your brick, visit support.vcu.edu/pathways/locate-brick.html.