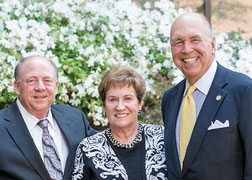 View all spotlights
Surprise scholarship recognizes childhood friend
George "Steve" Loder (B.S. '71) and Richard T. "Dick" Robertson (B.S. '67; H.L.D. '05) have been friends for more than 50 years. From their high school days in Norfolk, Virginia, the two have remained close and communicate often.
But Loder didn't communicate one thing with his friend until May 6, when Virginia Commonwealth University dedicated the Richard T. Robertson School of Media and Culture. Loder recently established a scholarship in the newly renamed school.
In recognition of Robertson's contributions to VCU as well to commemorate their longtime friendship, Loder and his wife, Linda, established the George S. Loder Scholarship, to be awarded for the first time in 2020. The merit-based scholarship will be available to students in the school in good academic standing.
"This was the perfect time to do something like this," Loder said. "Everything in life is about timing, and this was the right time."
Robertson began his 40-year television career in 1965 as a salesman for Richmond, Virginia-based WRVA-TV while earning a bachelor's degree in advertising from VCU. Today, he is considered one of the architects of the syndicated barter television business and a powerful and innovative industry executive.