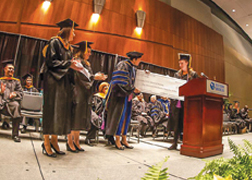 View all spotlights
Nursing school grads leave scholarship legacy
A gift from Virginia Commonwealth University School of Nursing's 2013 accelerated class was presented at a recognition ceremony held in December at the Greater Richmond Convention Center.
A committee, made up of Isabel Botello, Megan Butler, Meghan Coquillon, Bridget Fitzgerald, Sarah Herdrich and Hillary Liddick, representing the class's 90 accelerated bachelor's degree students created the Don Gloves Endowment Fund Scholarship.
To date, more than $5,000 has been raised through gifts and pledges. The MCV Foundation, the School of Nursing and VCU Alumni will match the amount dollar for dollar. The scholarship, named in jest as a tribute to the many videos students are required to watch where nurses are told to "don gloves" for sterile procedures, is expected to be awarded for the first time in 2017.
Students in the accelerated bachelor's program at the School of Nursing enter the school with a bachelor's degree in another discipline. They finish the program in five semesters and have few options for financial aid, other than loans.
The need-based scholarships will be awarded to accelerated B.S. students who display an appreciation of diversity as displayed through an essay.