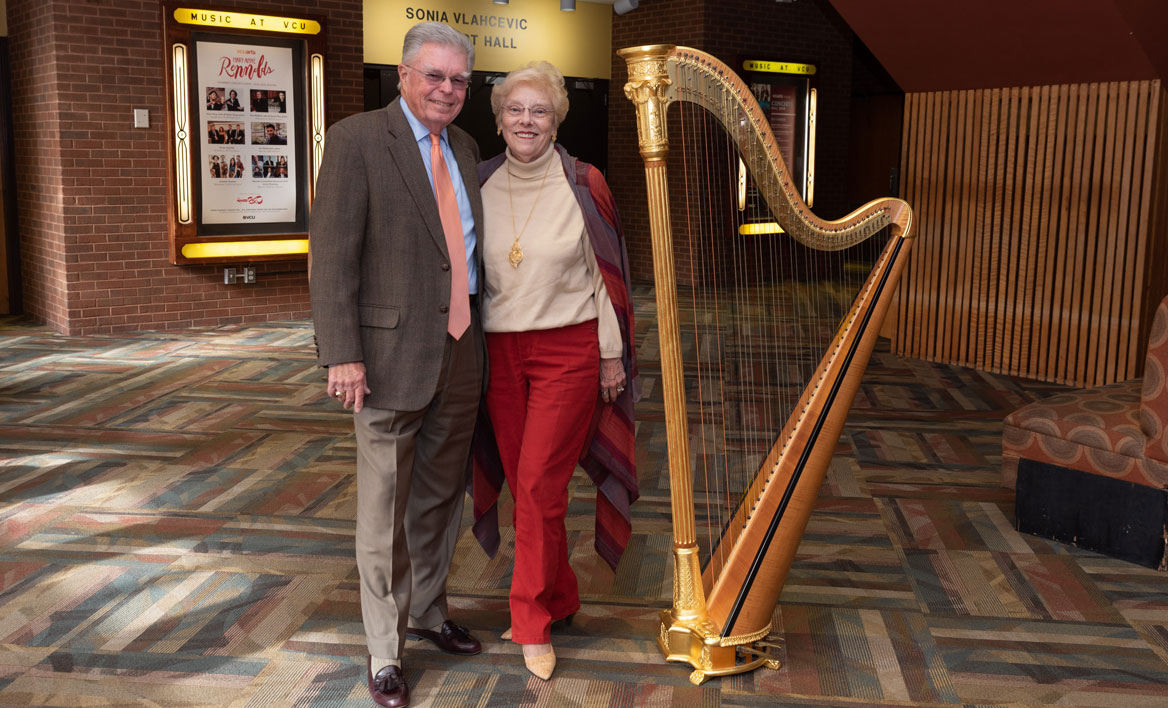 VCUarts receives historic harp
The VCU School of the Arts received a one-of-a-kind donation from Carol and Charles Ellis (B.M.'63/A) in November, when they gave the school a 19th-century harp. The gift will be used to educate students in the Department of Music.
When the Danville, Virginia, couple inherited the harp from an aunt in 2008, it was unplayable; the instrument, built in 1807 in Paris by noted instrument maker Sébastian Érard, had only one string, and the wood finish had worn off. In 2010, a custom harp-maker/restorer, Howard Bryan, in Lynchburg, Virginia, restored the instrument. Later that year, the instrument was played in concert for the first time since the Ellises owned it.
The couple have always been musically inclined: Charles is a trumpeter and conductor, and Carol is a vocalist. They are also passionate about education, they say. and excited that students can now learn about music history studying — and in some cases, playing — a nearly 200-year-old instrument.
"I don't know many music programs in the country that would even have an instrument like this available to their students," Charles says. "What we hope for is students gaining an appreciation for the technology we have now through learning about how music has grown over the centuries."
The gift is also a testament to the stature of the music department. "They have high standards for their musicians," Carol says. "That is so important. If you're going to do something, do it well."
VCUarts has a vital mission, Charles notes. "If you remove the arts, whether it's music, visual arts, drama or poetry, we suddenly have a gray-scale world," he says. "If we forget our past and who we are, we are destined for failure."
Thus, above all, Charles says, young people must advocate for the arts in the wider community. This gift, he hopes, will inspire VCU students to do so.
To learn more about the School of the Arts, contact Julia Carr, senior director of development, at (804) 827-4676 or carrj@vcu.edu.