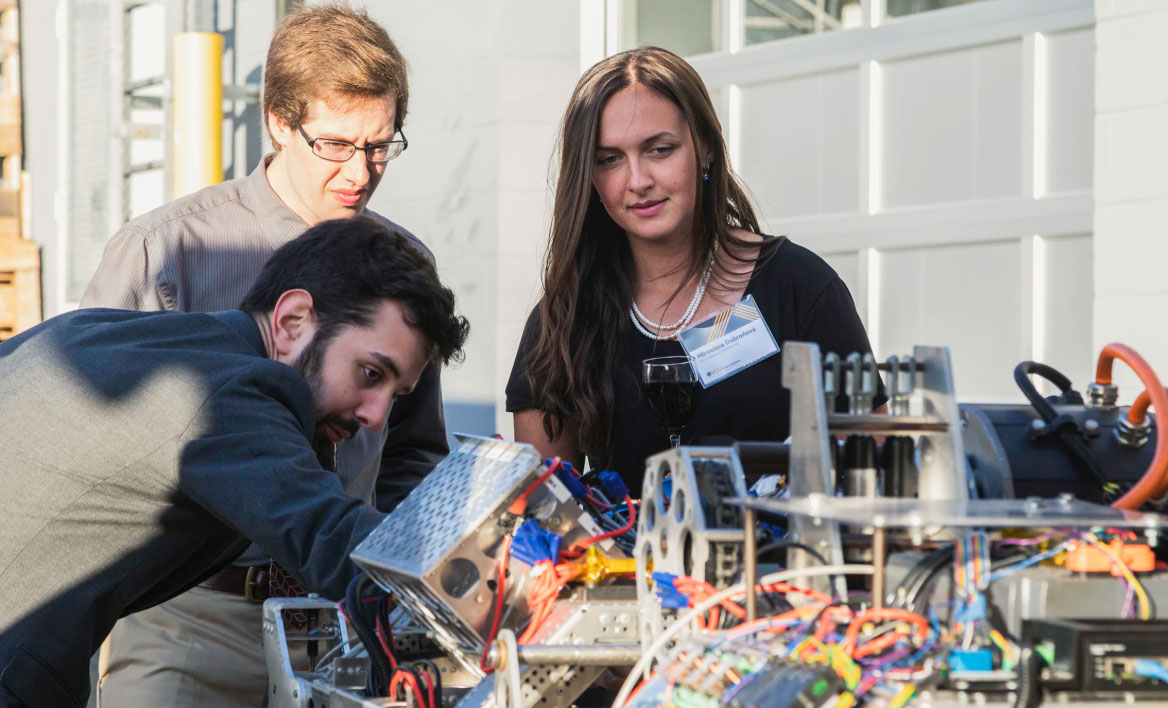 Engineering unveils newest makerspace
The Virginia Commonwealth University College of Engineering unveiled its newest makerspace for students' large-scale engineering and high-performance transportation projects, the Maker Garage at 12 W. Cary Street in Richmond, Virginia. In September, faculty, students and members of the VCU Engineering Dean's Society got a first look at the new facility, which was purchased and renovated with support from the VCU College of Engineering Foundation Board during the Make it Real Campaign for VCU.
Charles P. Cartin, Ph.D. (B.S.'06/En; M.S.'07/En, Ph.D.'12/En), associate professor of mechanical engineering and the college's director of makerspaces, told attendees that a space like the Maker Garage challenges students to work together to design and build by hand.
"We want students to come here and ask, 'Why not? Why can't we make this possible," he said.
The Maker Garage will be home to two interdisciplinary teams that have taken VCU to the international stage in recent years. Formula SAE at VCU, a student group that designs and builds Formula-style race cars, went to the FSAE international collegiate competition in Lincoln, Nebraska, in June. Hyperloop at VCU, a student-led initiative to design and build an ultra-high-speed transport pod, went to the 2018 international Hyperloop Pod Competition Finals at SpaceX headquarters in Hawthorne, California. Students from both teams and their vehicles were at the Maker Garage opening.
With metalworking and woodworking equipment, a state-of-the-art waterjet cutter capable of safely cutting almost any material and multiple student work areas, the makerspace reflects the college's focus on immersing students in creative, collaborative, hands-on approaches to engineering. By working across disciplines to design new solutions and then prototype them by hand, future engineers gain a deep understanding of how things are made and used. This equips them to add more value when they join the workforce.
"There is no single piece of equipment here that will take us to the next level," said Boris Solomonov, laboratories and machine shop manager. "It's the students who will take us there."
A version of this article was previously published by the VCU College of Engineering.
To learn more about the College of Engineering, contact Brian Campbell, executive director of development, at (804) 828-1475 or becampbell@vcu.edu.