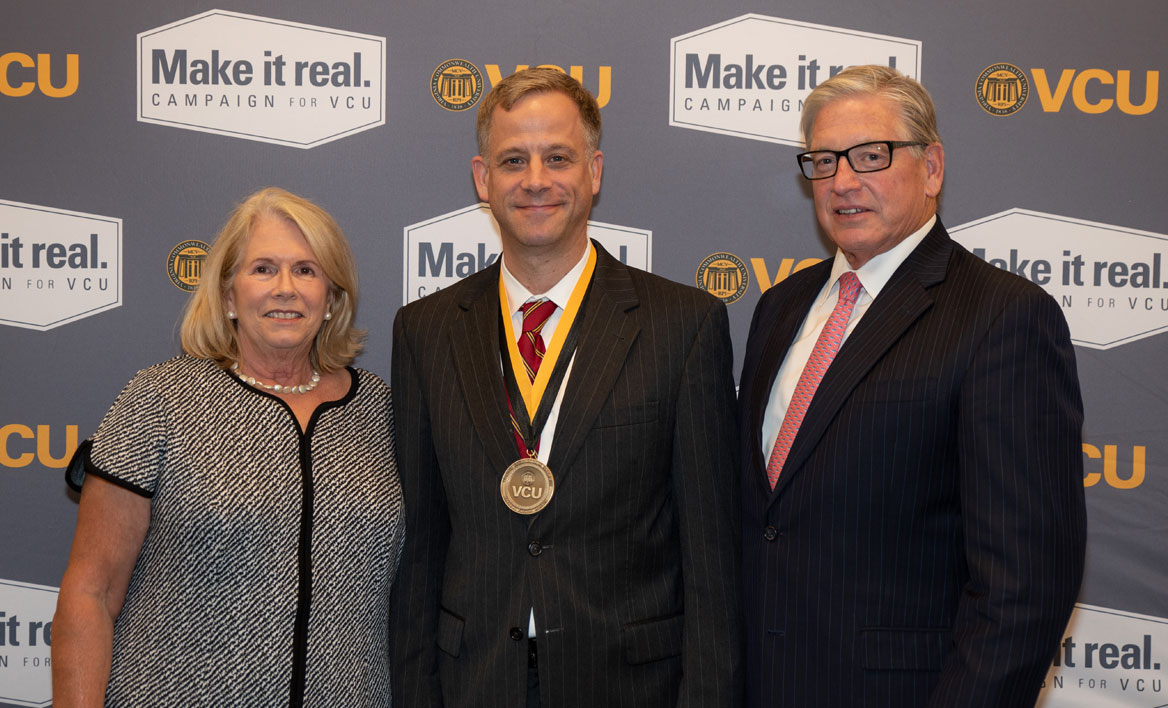 VCU honors endowed faculty, donors
By Kyra Molinaro
Sitting among some of the most accomplished faculty members at Virginia Commonwealth University, Gregory J. Golladay, M.D., associate professor in the VCU School of Medicine's Department of Orthopaedic Surgery and an award-winning orthopaedic physician, felt humbled.
"To receive this opportunity to be present in this room among such incredible clinicians and researchers is a tremendous honor," he said. "There's almost a feeling of unreality."
The recipient of the Allison D. and J. Abbott Byrd III Chair in Orthopaedic Surgery, Golladay was one of more than 50 faculty members who have recently been awarded endowed professorship and chair positions. These individuals were formally invested and honored with medallions Sept. 27 at the VCU Investiture Dinner at The Jefferson Hotel in Richmond, Virginia. School of Business Dean Ed Grier and School of Medicine Dean Peter Buckley, M.D., presided at the ceremony.
The event also honored those donors whose generous contributions created the professorships and chairs. Donors sat with their faculty recipients to enjoy the event with them, whether they had known one another for years or were meeting for the first time.
Golladay said he was thrilled to meet Allison Byrd, M.D. (M.D.'78/M), and J. Abbott Byrd III, M.D. (M.D.'78/M). The couple's children, Jennifer Byrd, M.D. (M.D.'13/M), and William Byrd, M.D. (Cert.'09/M; M.D.'13/M), are also School of Medicine alumni, as is J. Abott Byrd's father, John Byrd Jr., M.D. (M.D.'47/M; H.S.'48/M).
"The medical campus has been blessed with extraordinary faculty who instill knowledge in students that go on to support the community, and we are so thankful for that," Allison Byrd said. "Knowledge can't progress without resources, so it is critical to advance funds. Giving back was our way of helping."
Golladay is grateful for the breadth of the Byrds' support. "This is a huge commitment on the part of the Byrds that will allow us to delve into dedicated research, furthering our study of science and medicine," he said. "I owe them a huge debt of gratitude."
P. Worth Longest, Ph.D., recipient of the Louis S. and Ruth S. Harris Exceptional Scholar Professorship and associate professor in the College of Engineering's Department of Mechanical and Nuclear Engineering, also expressed gratitude to donor Louis Harris, a VCU professor emeritus.
"I'm honored to have dinner with Dr. Harris and thank him for the generous gift he has given, which supports the work I do in the lab," he said. "The award gives you the flexibility to develop project ideas that may not come to fruition otherwise, taking bits of information and allowing us to leverage them into grand applications."
Since the launch of the Make It Real Campaign for VCU in July 2012, donors have created 52 new endowed chairs and professorships and established 72 new endowed faculty support funds and research funds. Combined, more than $258 million has been raised to support VCU faculty, said VCU Vice President for Development and Alumni Relations Jay E. Davenport, CFRE, in his opening remarks.
VCU President Michael Rao, Ph.D., impressed upon the audience the importance of critical support for esteemed faculty.
"The experiences of our faculty members translate directly to the experiences of our students," Rao said. "We aim to transform lives, and we can't do so without making the types of investments you are helping us make, supporting the intellectual power of our faculty. You are creating such an important foundation for this institution, and I can't thank you enough."
To learn more about creating an endowed position, contact Magnus Johnsson, senior associate vice president for development, at (804) 878-1363 or johnssonm@vcu.edu.