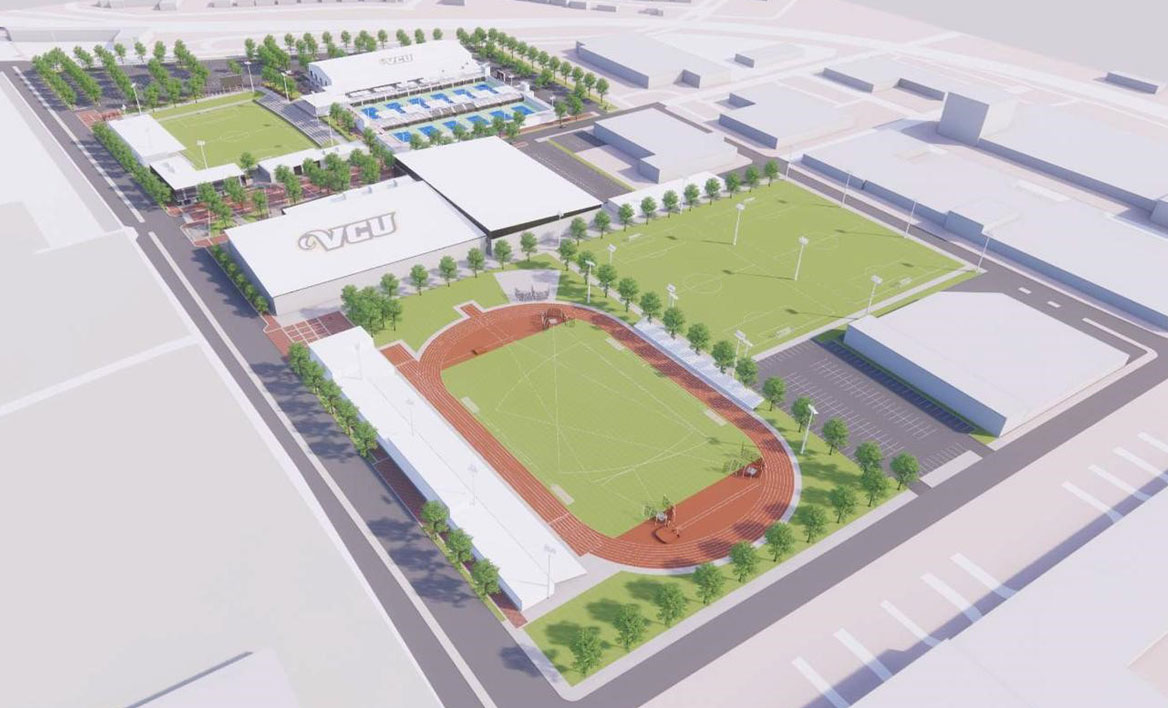 VCU Athletic Village receives $1 million pledge
The West Charitable Trust has pledged $1 million to a new tennis facility inside the upcoming VCU Athletic Village. The state-of-the-art tennis center will include six indoor and 12 outdoor courts modeled after USTA facilities. In addition to serving as the new home of VCU's nationally-recognized men's and women's tennis programs, the 18-court facility will also serve Richmond's vibrant tennis community.
The VCU Athletic Village is a transformative project which will be housed on 41.7 acres on Hermitage Road in Richmond, Virginia. The village will include new facilities for tennis, soccer and outdoor track & field in addition to practice fields and an indoor multipurpose facility. The gift from the West Charitable Trust will go towards naming rights for the tennis center lobby and the side streets within the Athletic Village.
"The West family name is synonymous with VCU Athletics. Starting with Tommy J. West many years ago, the West Charitable Trust and the club in the Siegel Center that bears Tommy's name, the Wests have given so much to the university and our athletic department," Vice President and Director of VCU Athletics Ed McLaughlin said in his October announcement of this gift. "The West family bleeds black and gold, much the same as Tommy did, and we cannot thank them enough for their generous support."
The West Charitable Trust, named for late VCU Athletics benefactor Tommy J. West, has supported a number of Ram Athletic Fund initiatives in recent years.
"Under the leadership of Ed McLaughlin, VCU Athletics continues to be a positive vehicle for change throughout the university and the greater Richmond community. We are thrilled to continue our support and elevate what is already one of the best student-athlete experiences in the country," the trust said in a recent statement. "We were drawn to this project for many reasons, but the impact it will have on the city of Richmond for generations and the championships it will help produce for VCU student-athletes is very special to us. We are excited to support what we know will be one of the most impactful facility projects in VCU history and continue to honor Tommy's legacy."
To learn more about the VCU Athletic Village, contact Michael Morelius, associate vice president for development - Monroe Park Campus, at mvmorelius@vcu.edu.