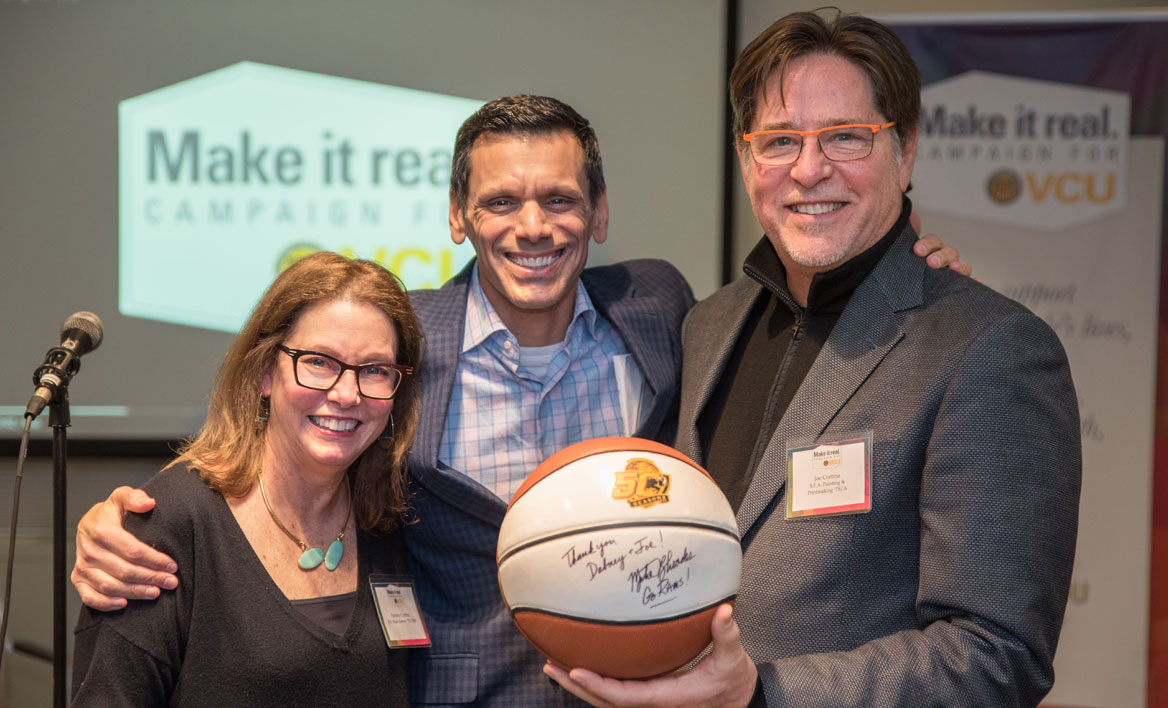 Alumni couple creates co-scholarship
Dabney (B.S.'75/H&S) and Joseph (B.F.A.'76/A) Cortina hit it off instantly when a friend introduced the pair at Virginia Commonwealth University more than 44 years ago.
"VCU has always played an important role in our lives, from our education to our romance," Dabney says.
Dabney graduated in 1975 from the School of Mass Communications, now the Richard T. Robertson School of Media and Culture, and Joseph graduated in 1976 from the School of the Arts.
They've been married for more than 40 years and recently cemented their legacy into their respective schools with a $25,000 commitment in support of the Make It Real Campaign for VCU to create the first co-scholarship between the Robertson School and School of the Arts, the Dabney and Joseph Cortina Endowed Scholarship.
The pair also gave $2,500 for a current fund to award scholarships while the endowment is being established. Rising undergraduate juniors or seniors pursuing a degree within the VCU Robertson School or VCU School of the Arts with a grade point average of 3.0 or higher and demonstrated need are eligible to receive the award. Preference will be given to students who identify as first-generation college students. The scholarship will be awarded to arts students in odd-numbered years and mass communications students in even-numbered years.
"I hope it helps someone who might be struggling financially to follow their passion," Dabney says. "Maybe this eases the burden a little and allows them to move forward."
Several years after graduating, the Cortinas started their own production company, Cortina Productions. Its clients include the National Museum of African American History and Culture, the College Football Hall of Fame and seven presidential libraries.
Over the years, the couple have encountered many VCU graduates in the media industry, which helped pique their interest in giving back. It's important to give to the university now, as the media industry develops with the rise of new technologies, Joseph says.
"The conversion of these media is one of the main reasons we have arranged our giving for both the media school and the art school," Joseph says. "VCU's excellence in both these disciplines makes it a rich area of collaboration in the future."
Joseph says his company has also had to adapt in recent years. A HoloLens project it presented at the annual South by Southwest Conference last year in particular served as an example of the kind of merging of art, media, technology and interactivity in which students will have to be well-versed in the future.
"Every day I rely on something I learned at VCU and through this scholarship," Joseph says. "I hope to give someone else that extraordinary opportunity."
To learn more about the School of the Arts, contact Julia Carr, executive director of development, at (804) 828-4676 or carrj@vcu.edu. To learn more about the Richard T. Robertson School of Media and Culture, contact Bethanie Constant, senior director of development, at (804) 828-4543 or constantb@vcu.edu.