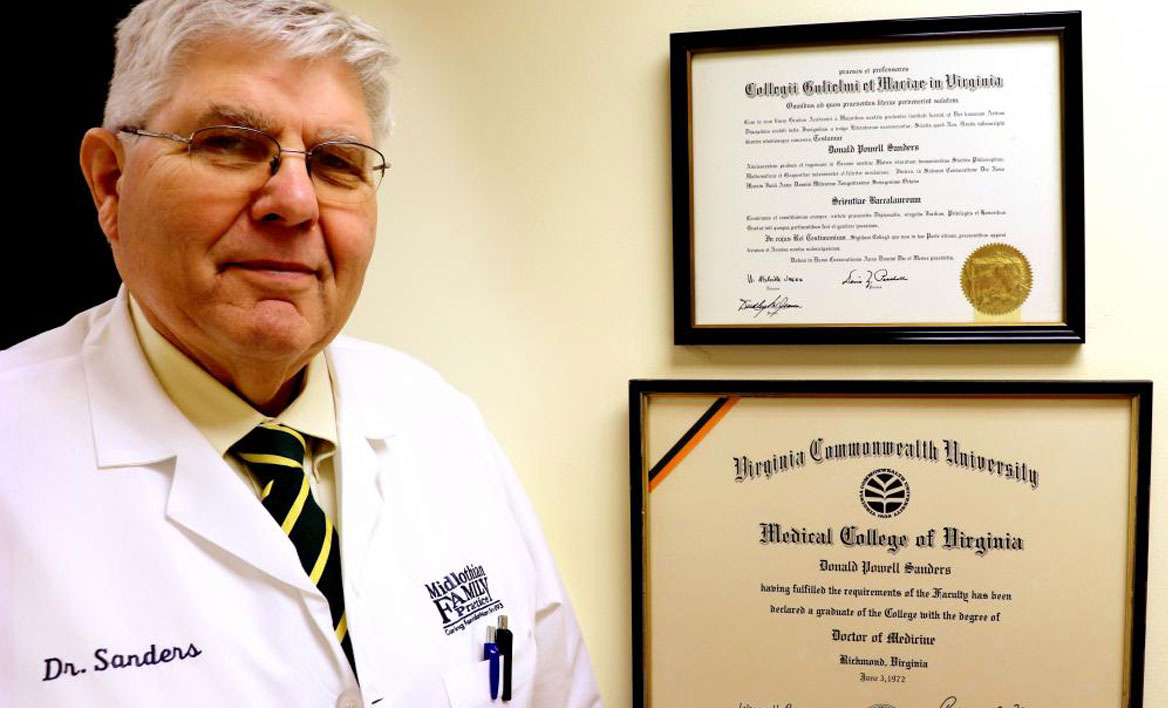 Donor gives to family medicine program
After more than 40 years serving his community, Don Sanders (M.D.'72/M; H.S.'73/M) is still practicing family medicine in Central Virginia.
"I'm still doing it because I like doing it," he says. "It's really gratifying for me to know that I'm still important to people – they want to come to see me. Every day there's a story that makes me feel good. I have 40-year patients with whom I have really great, lasting relationships, and that's a big part about being a family doctor."
Relationships and connections like those that Sanders has with his patients are vitally important to the ongoing health of individuals and entire families who see family physicians. They also help cut down on healthcare costs by keeping people out of emergency departments. But experts say a shortage of these caregivers is expected in the coming years.
To help address this, the School of Medicine created the Family Medicine Scholars Training and Admission Tract in 2012. The program is designed to develop, nurture and support medical students who are committed to the pursuit of a career in family medicine by pairing them with physician mentors, offering them opportunities to attend family medicine retreats and seminars, considering them for family medicine scholarships and supplying other family medicine-specific support infrastructure.
One of the contributing factors to a shortage in primary and family care physicians is that many medical students are enticed to pursue specialties where they can earn much more after graduation than they would as a family physician. Scholarships that can help ease the burden of student debt are a great benefit and motivator to students contemplating this career. Recognizing the opportunity to stimulate interest among medical students, Sanders and his wife, Terry, made the decision in 2017 to make a gift of $25,000 to support the Family Medicine Scholars Training and Admission Tract.
The Sanders' gift contributes to the School of Medicine's fundraising goals for the Make It Real Campaign for VCU and bolsters the school's commitment to reducing the burden of student debt.
"I'm not sure if we're going to inspire others to give money," Don said. "But I hope we inspire students to go into primary care, and that's why we're glad that we made this gift."
A version of this article was previously published by the MCV Foundation.
To learn more about the School of Medicine, contact Amy Lane, Ph.D., director of major gifts, at (804) 827-4937 or amy.lane@vcuhealth.org.