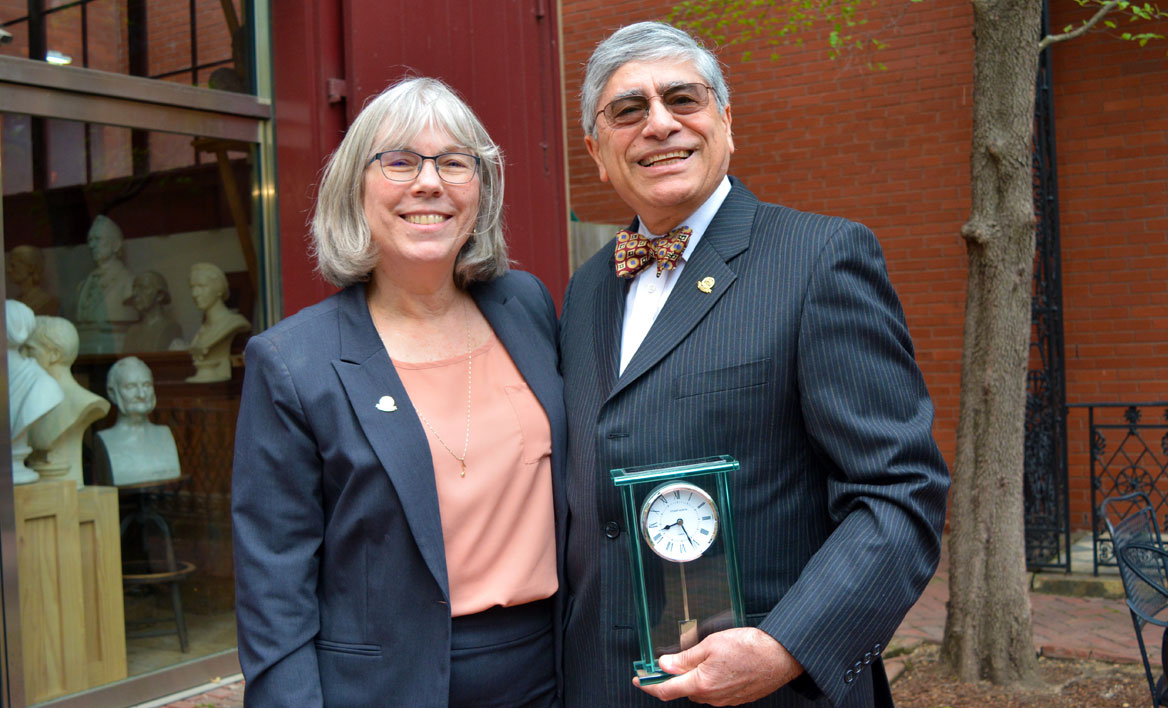 Scholarship honors retiring professor
Faculty, staff, students, alumni and friends of the VCU College of Health Professions' Department of Health Administration raised more than $25,000 in support of the Make It Real Campaign for VCU to endow a scholarship in honor of Yasar Ozcan, Ph.D. (Ph.D.'88/AHP), who retired this spring after 38 years of dedicated service to VCU.
"When you honor someone's legacy, you try to think of ways to do it that will coincide with the kind of person they were and the things they were known for," says Mitchell Harris, Pharm.D. (M.S.H.A.'17/AHP). "He is caring and supportive of his students, so a scholarship seemed like the most fitting way to continue the legacy of everything he's done for VCU."
Harris and two of his peers from the department's Class of 2017, Kelechi C. Ogbonna, Pharm.D. (M.S.H.A.'17/AHP), and Bethany Baker, Pharm.D. (M.S.H.A.'17/AHP), assisted in planning and fundraising for the scholarship. With leadership and support of the department and participation from faculty, staff, students and representatives from many classes, the Health Administration community raised the $25,000 needed to endow the fund. After just seven weeks, they had garnered support from more than 100 donors and surpassed their goal.
"I think it was a testament to what he's meant to the program and the mark he's left on the school," Baker says.
Ogbonna is the associate dean for admissions in the VCU School of Pharmacy and says Ozcan played a major role in his decision to pursue a degree in health administration.
"I credit a lot of my success in this role to Dr. Ozcan for taking the time to help me understand how the program would be helpful in my career development," he says.
Ozcan came to VCU as a senior research associate in 1979, steadily climbing the academic ladder to become a professor teaching health analytics and decision support. The Yasar A. Ozcan Leadership Scholarship will be awarded to one or two health administration students annually who possess strong leadership qualities and an analytic aptitude.
"Contemporary leadership in health administration has no luxury for gut-feeling-based decision making," says Ozcan, who also served as vice chairman of the department, director of the Master of Science in Health Administration program and the Charles P. Cardwell Jr. Professor of Health Administration during his tenure at VCU. "It is imperative to learn and practice analytics-based decision alternatives for a successful career in this filed. I hope Yasar A. Ozcan scholars will adhere to this principle in their studies and become effective administrators."
To learn more about the College of Health Professions, contact T. Greg Prince, senior director of development, at (804) 828-7247 or tgprince@vcu.edu.