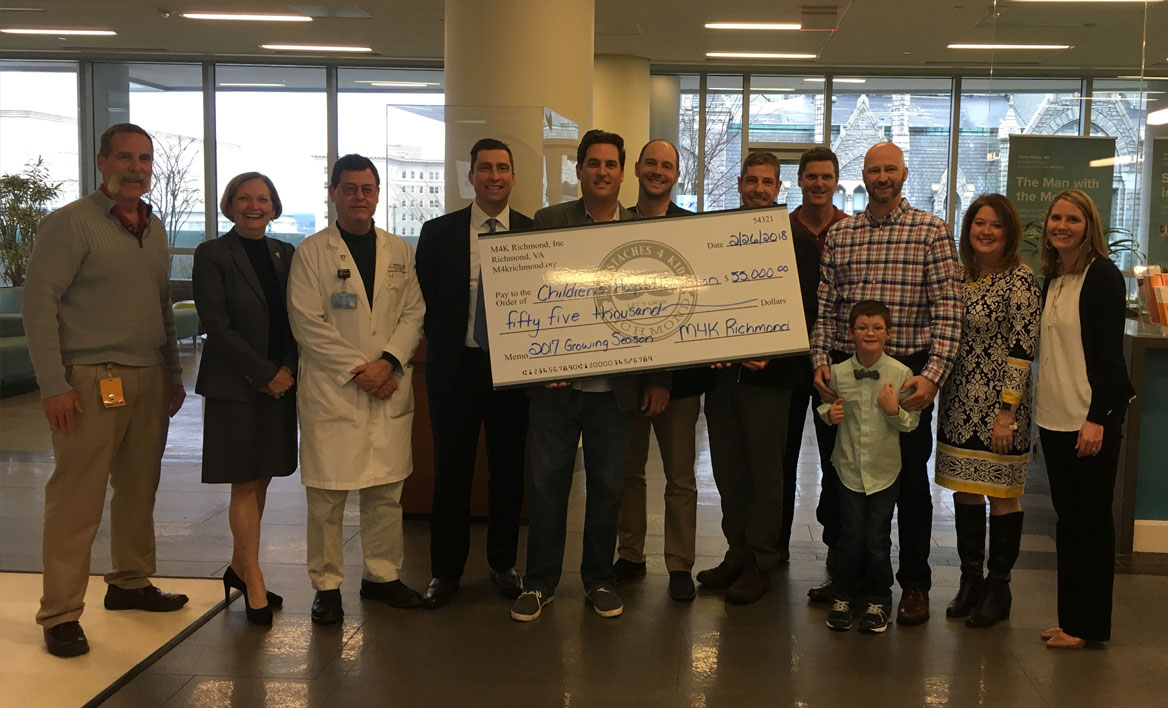 Mustaches 4 Kids raises money for CHoR
For the past seven years, facial hair — and the men who grow it — has raised more than $217,000 for Children's Hospital Foundation, which works in support of Children's Hospital of Richmond at VCU. In February, leaders of Mustaches 4 Kids Richmond presented the Children's Hospital Foundation with a check from their most recent event.
As part of the annual M4K Richmond fundraiser, participants pay a small entrance fee and collect pledges to support their monthlong facial-hair-growing efforts. This year, 127 growers raised a total of $268,000 for local children's charities including Children's Hospital Foundation, ASK Childhood Cancer Foundation, Greater Richmond SCAN, Noah's Children and Cameron K. Gallagher Foundation.
"We have a good time with it. It's a great opportunity to hang out with your friends, network with new people and give back to the community," says Ben Keefer, M4K Richmond chairman. "M4K Richmond is honored and humbled to support organizations like Children's Hospital Foundation. Our charities are the ones out there every day doing all the hard work, making lives better for children in our community."
"I do this every year, along with a bunch of the other pediatricians at CHoR," says Bruce Rubin, M.D., Children's Hospital of Richmond physician-in-chief, of his choice to participate in M4K. "It's a fun way to meet up with a great group of community friends like Ben [Keefer], to mildly irritate my family because of how silly I look, and to raise money for CHoR and other wonderful Richmond organizations that improve the lives of kids."
To learn more about the Children's Hospital of Richmond at VCU, contact Lauren Moore, director of development, at (804) 828-3632 or lauren.moore@vcuhealth.org.