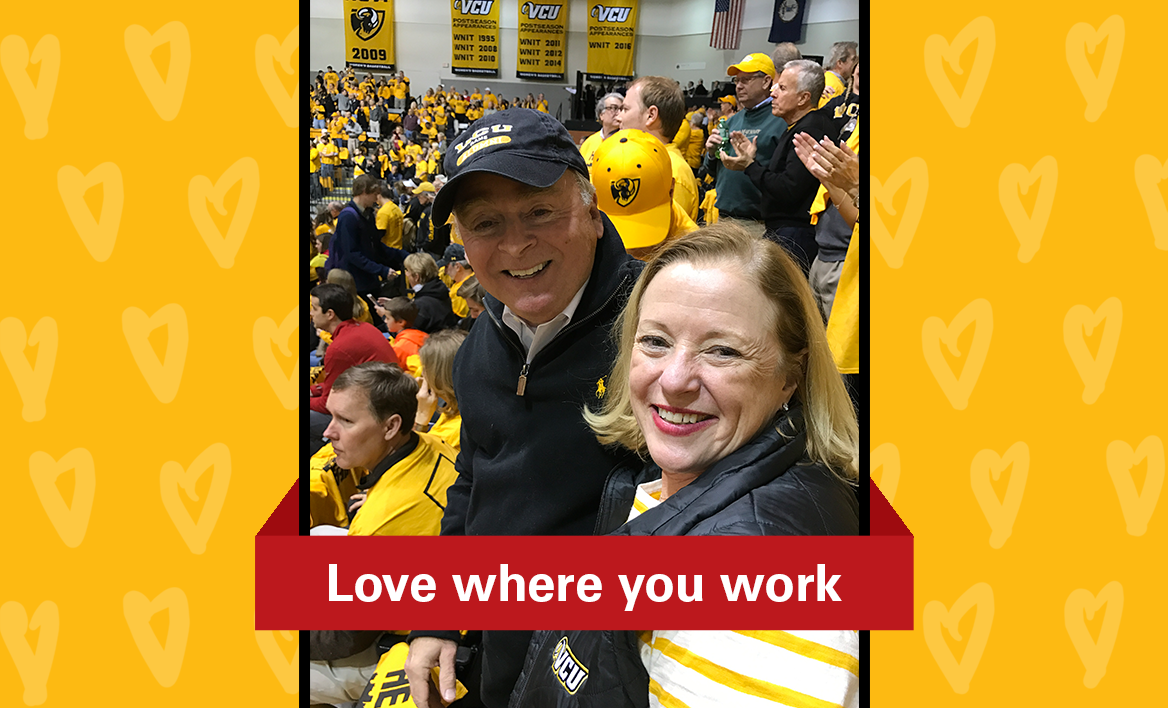 'A dream come true': Cathleen and Tom Burke's long relationship with VCU
It's difficult to identify a single origin story for Cathleen and Tom Burke's long relationship with Virginia Commonwealth University. It starts with Cathleen, who began working at the university in 1980, six years before Tom began his VCU career. It also begins with Tom (B.S.'79/E; M.P.A.'95/GPA), who earned his bachelor's degree from VCU the year before Cathleen started working in University Human Resources.
Regardless, their relationship with VCU is strongly connected to their relationship with each other.
"[VCU] is really part of our fiber," says Cathleen, the university's assistant vice president for human resources.
In the 35-plus years that they have both worked at VCU, the Burkes have contributed to major university efforts like the Great Place Initiative and Make It Real Campaign for VCU. They also have invested in VCU through donations to more than a dozen programs, including establishing student scholarships in the L. Douglas Wilder School of Government and Public Affairs and the School of Education.
"You can see yourself in [the students] and what they are trying to do with their lives and careers," says Tom, a senior capital gifts officer in the Office of Development and Alumni Relations. "I think what a lot of people don't realize is that $500 or $1,000 can have a really big impact on a student's ability to come to VCU and stay. It's rewarding to us as donors to see [students] succeed."
The Burkes' years at the university have been full of memorable moments and charming rituals, including traveling to the 2011 NCAA Final Four and enjoying late-night drive-up dates at Wendy's after attending university fundraising events. All along, VCU has grown into a large research university, in many ways through the everyday efforts of employees, who, Tom says, "lift the place, a little bit at a time."
Tom and Cathleen mostly work in their own areas of campus, though they sometimes attend the same events. Occasionally, someone — unaware of their relationship — will introduce them to each other.
"'Oh, Tom, this is Cathleen Burke. Do you know each other?'" Cathleen says. "And we'd be like, 'Yeah, we do know each other.'"
"We'd have to fess up at that point," Tom says with a laugh.
It's all part of their VCU story, Cathleen says.
"It was a dream come true [to be hired here]," she says. "I hope I have given back."
To learn more about faculty and staff giving at VCU, visit support.vcu.edu/bgy.