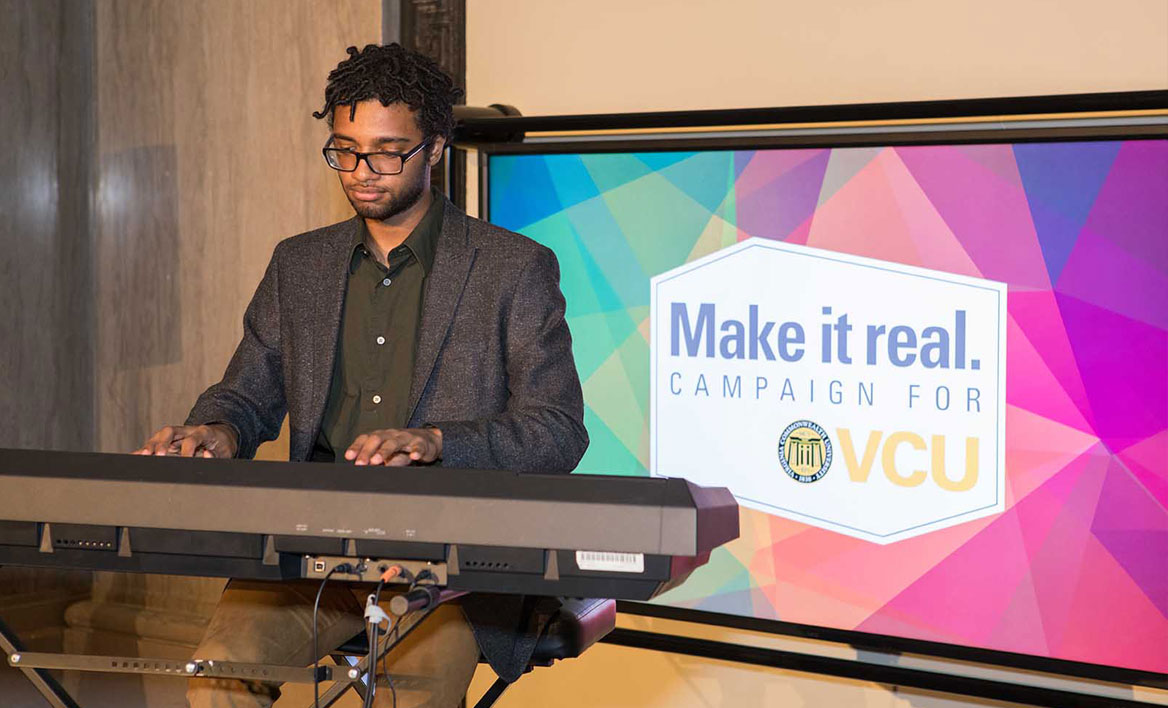 VCU honors scholarship students, donors
By Kyra Molinaro
Nearly 400 Virginia Commonwealth University scholarship recipients and their benefactors enjoyed a piano performance during a predinner reception for the 20th annual VCU Endowed Scholarship Dinner on Feb. 11 at the Science Museum of Virginia in Richmond, Virginia.
The pianist, a VCU student and a scholarship recipient, never saw college in his future.
Zaiendae Smith, a sophomore piano performance major in the VCU School of the Arts and the inaugural recipient of the Beverly J. Warren Scholarship, has come a long way. His parents, neither of whom attended college, separated when he was young. Smith's mother homeschooled him and his three younger sisters at their home in Grand Rapids, Michigan, for most of his early education.
He moved to Richmond to live with his father in 2016 and attended Henrico High School, where he grew to love his peers and teachers, especially his music instructors. They encouraged Smith to apply to VCU to continue his piano studies, but Smith wasn't optimistic.
"I didn't expect to go to college for a number of reasons," he said. "There was the financial aspect, because I knew my parents didn't have the resources to pay for my education. Plus, I doubted that I would even pass my audition. I didn't think I was a good enough musician."
To his surprise, Smith was accepted into VCU's Department of Music and began his studies in fall 2017 under the guidance of acclaimed musician and piano professor Sonia Vlahcevic. He covered his first-year expenses by combining his personal savings with federal student loans. But it wasn't until this past fall, when Smith was informed he had received the Warren Scholarship, that he realized his dream of finishing his college education was possible.
Smith received $1,500 through the scholarship, which was established in 2014 by private donors to honor former VCU Provost Beverly Warren, Ed.D., Ph.D. The award, which is not automatically renewable but previous recipients may apply, supports full-time undergraduate students with documented financial need and demonstrated engagement and leadership potential.
"It means everything to know that there are people who care about the experience of just one person," Smith says. "I'm grateful to have the support to continue my music education, and I have been inspired to someday create my own scholarship fund. I want to have the same profound impact on others that this opportunity has had on me."
Smith was also featured in a video presentation during dinner that highlighted the impact of private philanthropy on first-generation students. Following the video, Mallory John (B.S.'11/H&S), a Ph.D. candidate studying chemistry, served as the evening's featured student speaker. John is a current recipient of the Altria Graduate Assistantship in Chemistry and the Dr. Billy L. Stump and Dr. Raphael M. Ottenbrite Fellowship in Chemistry. The latter is helping to fund John's attendance at the eighth International Congress on Laser Advanced Materials Processing conference in Hiroshima, Japan, this May.
"While there, I will present my research and network with potential collaborators from all over the world," John said in her remarks. "I am so grateful to have this amazing opportunity for my career and the chance to travel somewhere that I never expected to visit while in graduate school. None of it would be possible without the help and support of our generous donors."
Since the start of the Make It Real Campaign for VCU in 2016, donors have created more than 280 endowed scholarships, totaling $74 million in private donor funds. Smith counts himself lucky every day that he benefits from this support.
"We don't all come from the same background, and it's incredible to receive acknowledgement for the challenges that you face as a student," he said. "That's what this scholarship means to me. Seeing that people do care and want you to succeed gives me reason to get up and keep going."
To see photos from the event, click here.
To learn more about creating an endowed scholarship, contact Thomas Maness, associate vice president for development for health sciences and the MCV Campus, at (804) 827-4936 or temaness@vcu.edu, or Michael Morelius, associate vice president for development for the Monroe Park Campus, at (804) 828-4205 or mvmorelius@vcu.edu.