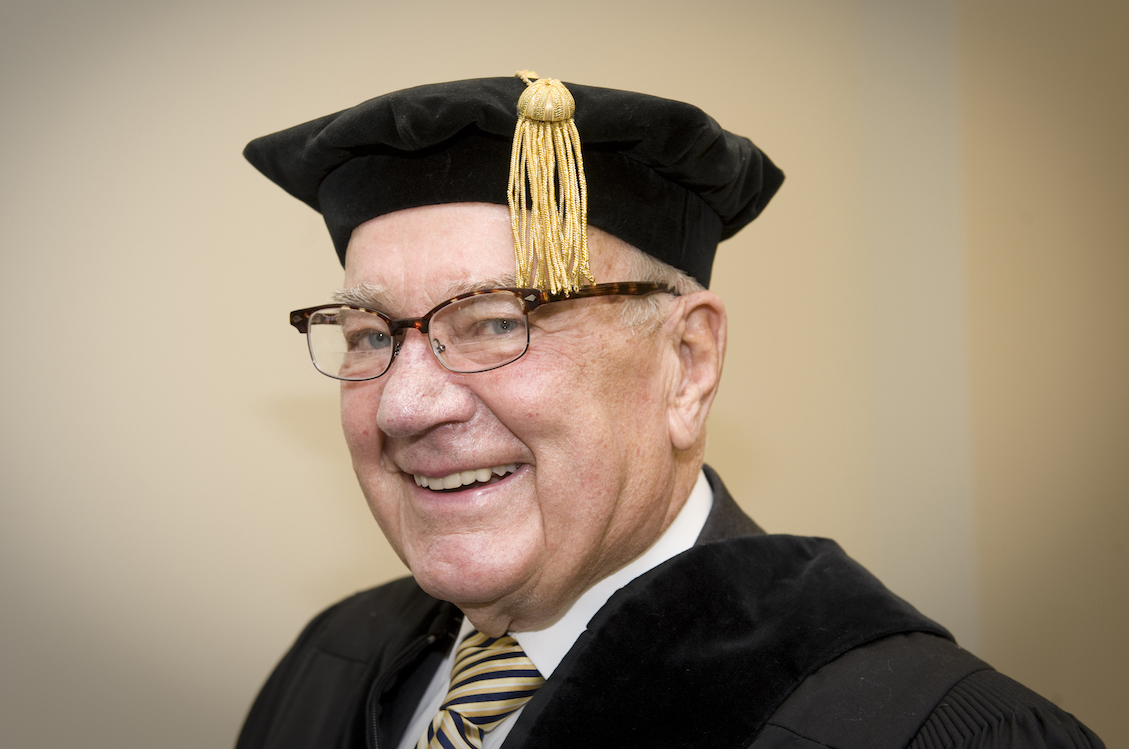 VCU benefactor C. Kenneth Wright dies
C. Kenneth Wright (H.L.D.'11), a longtime businessman and philanthropist whose giving is credited with helping to build today's Virginia Commonwealth University, died last week. He was 94.
Wright and his late wife, Dianne, who died in 2013, were dedicated supporters of VCU and the VCU Health System, including the VCU Massey Cancer Center. Their gifts were numerous and consequential, and they volunteered their time and expertise to the university and health system, says VCU President Michael Rao, Ph.D.
Wright "will never know how much he impacted the lives of literally thousands of people," Rao says.
"He understood better than most how much VCU means to Virginia," Rao says. "He left an indelible mark on our university and our health system and, most importantly, on those we serve together. We are forever grateful for his legacy of service and his vision for a better human experience for everyone. He was so much like our students: creative, focused, optimistic, inclusive, hard-working, determined and always committed to the highest standards. We will miss him dearly."
Wright served as a trustee of the VCU College of Engineering Foundation and was on the College of Engineering Industrial Advisory Council. The Wrights were among the university's largest donors, contributing more than $50 million. In 1999, the Wrights donated the building that had been the headquarters of Kenneth Wright's business and was later renovated to become the home of the VCU Brandcenter. The Wrights created the Dianne Harris Wright Professorship for Gynecologic Oncology Research; established a cardiology scholars endowment within the School of Medicine; gave the initial gift to create the Eugene P. Trani Scholars Program, which provides support to exceptional undergraduate applicants; and made a $10.5 million gift to the School of Engineering Foundation that was recognized in the naming of the microelectronics lab as the C. Kenneth and Dianne Harris Wright Virginia Microelectronics Center.
Wright and the C. Kenneth and Dianne Wright Foundation made a $16 million gift in 2015 to name the C. Kenneth and Dianne Wright Center for Clinical and Translational Research, which fosters collaborative science and health care research among VCU investigators and students. The gift established six C. Kenneth and Dianne Wright Distinguished Chairs in Clinical and Translational Research and the C. Kenneth and Dianne Wright Physician-Scientist Scholars program. The Wright Center became the first federally funded center of its kind in Virginia and is renowned nationally for turning groundbreaking science into lifesaving care.
A $5 million gift in 2017 established the Wright Engineering Access Scholarship Program, a flagship scholarship program to provide need- and merit-based awards to a broad base of College of Engineering students.
In 2011, VCU recognized Wright with its highest award when it presented him with an honorary doctorate. At the ceremony, Rao said Wright was a key figure in VCU's transformation in the previous two decades, calling him "one of the architects — the man who helped design our future." Wright said he had received many awards during the course of his lengthy business career but "nothing on the level that I'm receiving today."
A version of this article was previously published by VCU News.