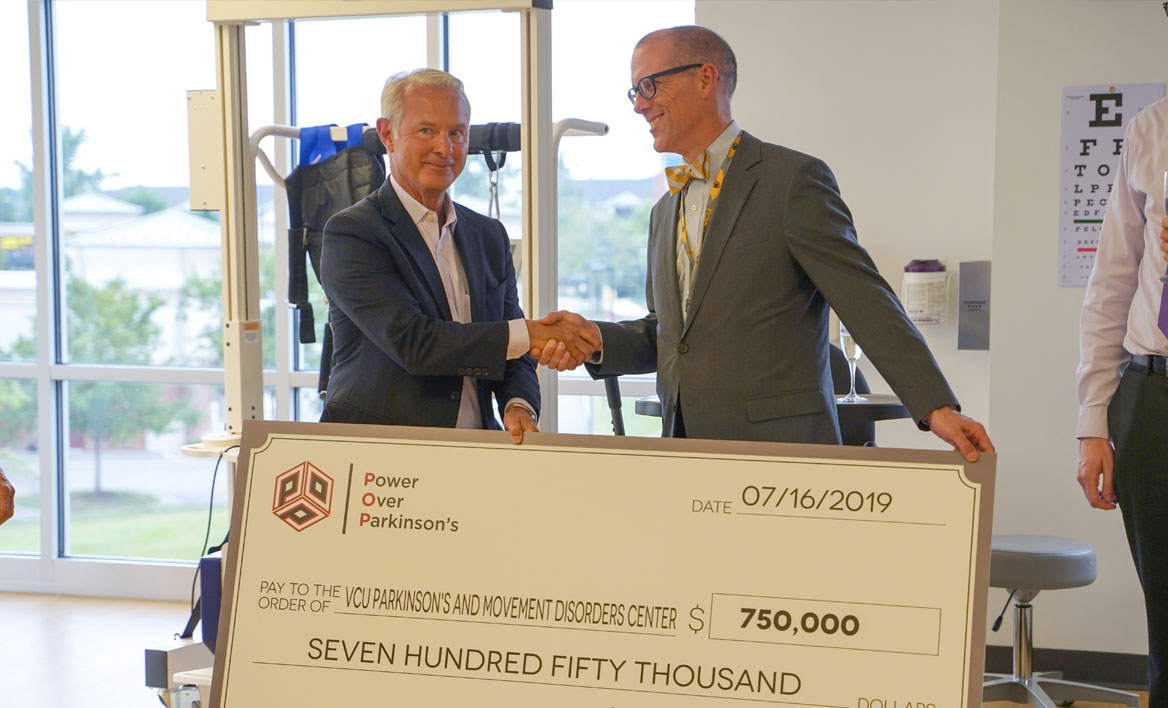 Pledge advances Parkinson's research
A new endowed chair will help VCU Health recruit a clinician-scientist to explore ways in which exercise and physical activity can reduce the symptoms of Parkinson's disease. Power Over Parkinson's, a nonprofit organization focused on providing resources to people with Parkinson's in Central Virginia, established the endowment with a $750,000 pledge to the Make It Real Campaign for VCU.
Local executive Gary Rogliano founded Power Over Parkinson's shortly after his own diagnosis with the disease in May 2018.
"I basically had to realign my whole life at that point," Rogliano says. "I figured out pretty quickly that there are not a lot of places to go for education about it. One thing I did learn is that exercise and physical activity are very good for reducing effects and slowing the progression of Parkinson's."
Activities like boxing and taekwondo helped with Rogliano's symptoms, but he and his family knew that managing Parkinson's was going to require more comprehensive care than his diagnosing doctor was providing. He became a patient at the VCU Health Neuroscience, Orthopaedic and Wellness Center in Henrico, Virginia, at the suggestion of his daughter, Margaret Preston (B.S.'05/B).
"My gut was telling me that VCU was the place for him to be," says Preston, who serves as director and vice president of Power Over Parkinson's. "I knew he needed to be where his neurologist, physical therapist, occupational therapist and other specialists are all in one centralized place. It's a great benefit to patients when doctors can speak to each other and access the same notes to see the whole picture."
The Rogliano Family Endowed Chair is the first result of a strategic partnership between Power Over Parkinson's and VCU Health. The Rogliano family hopes to continue working with VCU Health to find ways they can help improve quality of life for people with Parkinson's.
"A lot of people with Parkinson's need financial help. Many have to retire earlier than they planned, so suddenly it is harder for them to afford their normal living expenses on top of their medical care. Co-pays, special medical equipment, exercise classes – it all adds up," Rogliano says. "There's a lot of money invested in finding a cure, but not many people are doing something to help the people who need immediate help managing Parkinson's. That is where the real money is needed."
To learn more about VCU Health, contact Carrie Bickford, interim director of development, at (804) 828-3652 or carrie.bickford@vcuhealth.org. To learn more about Power Over Parkinson's, visit www.poweroverpd.org.