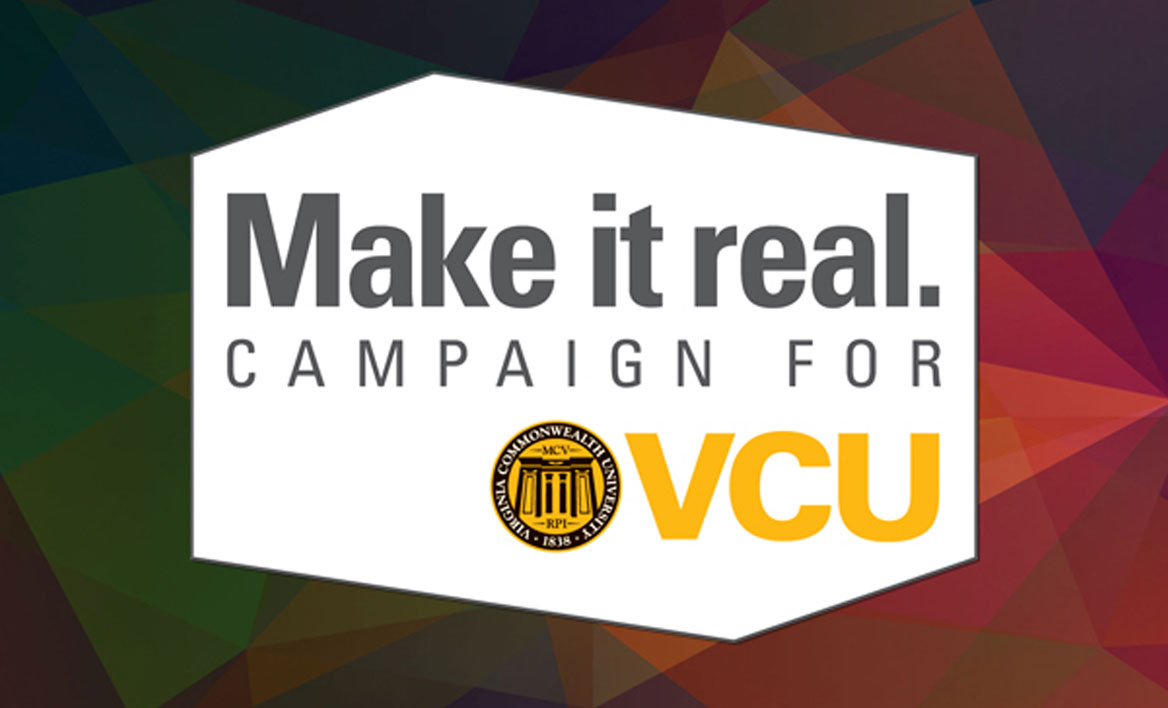 Campaign passes $600 million
Virginia Commonwealth University has raised $613.5 million toward its $750 million goal in the Make It Real Campaign for VCU, the university announced today.
Fiscal year 2018 has been the best fundraising year of the campaign so far, with $105.6 million raised to date. The university's fiscal year ends June 30.
The campaign, which began with a quiet phase in July 2012 and launched publicly in September 2016, is the largest fundraising effort in the university's history. It counts all funds raised through June 30, 2020.
Gifts to the Make It Real Campaign for VCU support critical university initiatives and growth in three areas: people, innovations and environments.
"This is an incredible milestone in the Make It Real Campaign for VCU and in the history of VCU as a whole," says VCU President Michael Rao, Ph.D. "Our goal is ambitious, but so is our vision. Gifts made to this campaign help us continue transforming the lives of our students, fueling research that improves the human situation, and driving economic development long into the future. I am so grateful to our alumni and friends for the generosity and leadership that enables us to be a public university for the public good."
Funds raised so far in the campaign have established 261 new endowed scholarships and student support funds, 52 new endowed professorships and chairs, and 72 new endowed faculty support and research funds. They have also supported a number of new buildings, including the Institute for Contemporary Art at the Markel Center, the Inger Rice Lodge at the Rice Rivers Center and a new building for the VCU College of Health Professions.
Of the $105.6 million raised this fiscal year, $38.9 million came from VCU alumni — including 1,789 first-time alumni donors — an increase of 80.4 percent in the committed revenue raised during the same time last year. Fifteen of 19 colleges, schools and units have raised more than 60 percent of their individual campaign fundraising goals. The College of Engineering and School of Education have exceeded their campaign goals and are having their best fundraising years so far. The College of Humanities and Sciences, College of Health Professions and School of Business also are having their best fundraising years to date.
"We cannot thank our donors enough for their generous support of VCU and VCU Health during the Make It Real Campaign for VCU," says Jay E. Davenport, vice president of development and alumni relations. "We have always had a very generous community, but in this record-setting year, the support has been second to none. It is particularly gratifying to see more alumni giving back. They may be part of our history, but their support is guaranteeing a robust future not just for the students and patients of today and tomorrow but in everything we do."
To learn more about the Make It Real Campaign for VCU, visit campaign.vcu.edu.