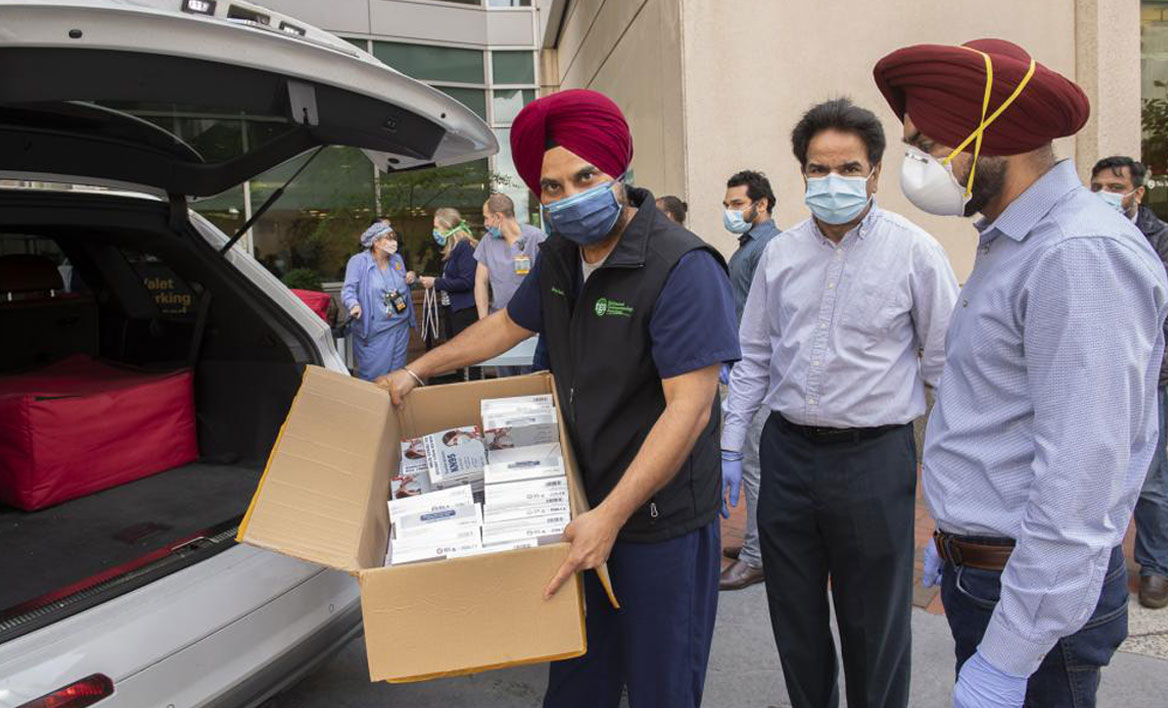 Donors help VCU Health fight COVID-19
VCU Health has seen an outpouring of support from the community as it responds to the spread of COVID-19. In total, supporters have donated more than $700,000 of gifts-in-kind and financial contributions to VCU Health, including donated meals for health care staff and helpful goods like gallons of hand sanitizer, gloves, masks, face shields, gowns and foot covers.
The health system's supply chain and infectious disease teams were carefully monitoring what supplies would likely be exhausted quickly once central Virginia began seeing cases in March.
"Within days of the first official COVID-19 case in Virginia, we had various organizations and private individuals reaching out and asking what we needed and how they can help," says Nathan Cunningham, manager of patient experience in the Department of Patient Centered Services at VCU Health.
The health system identified supplies and equipment that would be helpful to strategically increase. They hoped to shore up supplies of masks, nitrile gloves, gowns, foot covers, head covers and face shields, which would be depleted quickly as cases increased. After publishing the list online, calls came flooding in from businesses and community members. Labs, construction companies, tattoo parlors and other local businesses sent their existing stock of masks, gloves and other protective gear to VCU Health.
"It's been extremely generous," Cunningham says. His team has been coordinating receipt and distribution of the rush of in-kind gifts to the health system. Businesses have been donating their resources, and individual residents have also emptied their supply closets for particularly helpful supplies like N95 masks.
So far, more than 100 unique individuals or organizations have donated supplies or protective equipment. Capital One donated thousands of P-100 masks. Belle Isle Craft Spirits began producing hand sanitizer in addition to their popular moonshine. Volvo manufactured hundreds of face shields.
Community groups like RVA Masks 4 Health have made cloth masks for use in low-risk zones of the hospital. Shockoe Denim, a maker of fine custom jeans, also offered to help sew masks. Mask donations have come from groups as varied as CoStar, the real estate services company, and the Sikh Association of Central Virginia, who donated several hundred N95 masks.
Some of the biggest donations, Cunningham says, came from the VCU community. On the MCV Campus, lab managers gathered available stock from labs and rolled deliveries over to the hospital. At the School of Pharmacy, more than 30,000 pieces of PPE were donated from various labs that had closed because of the pandemic. On the Monroe Park Campus, the School of the Arts donated masks used to protect their students and faculty working on sculptures. Richmond Public Schools also donated goggles and safety equipment from its labs.
"Safety is our number one priority," Cunningham says. "It's such a relief for the staff to know our community is supporting them with these donations which help make sure that all of our team members have adequate supplies to safely do their jobs and take care of our patients."
A version of this article was previously published by the MCV Foundation.
To learn more about donating supplies to VCU Health, read the list of items currently being accepted online, call (804) 628-0400 or email vcuhealthdevelopment@vcuhealth.org to connect with staff managing in-kind gifts.