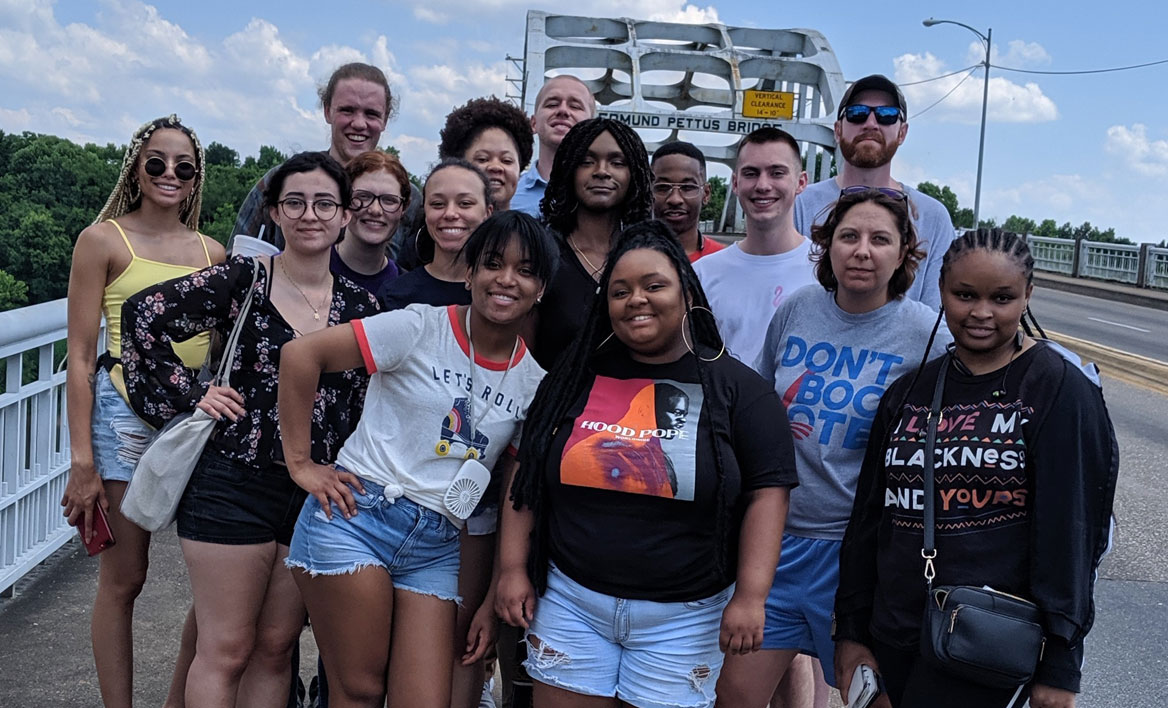 H&S donors fund experiential learning
Students from the Virginia Commonwealth University College of Humanities and Sciences visited 19 historically significant sites this summer as part of two new experiential learning courses focused on the civil rights movement and U.S. voting rights. Donors contributed more than $41,000 to fund the students' travel and lodging for the trip, including $9,000 raised for the Make It Real Campaign for VCU last fall when VCU debuted its crowdfunding platform Igniter.
"Giving the students a chance to learn the content in the places where it happened gives them a different perspective in learning the material," explains Alexandra Reckendorf, Ph.D., assistant professor and associate chair of the Department of Political Science. "From a pedagogical standpoint, I thought it would be a really unique and interesting way to get them out of the classroom and immersed in the history, whether they were walking across the Edmund Pettus Bridge or sitting in the Ebenezer [Baptist Church] chapel in Atlanta with their earbuds in, listening to the sermon that [Martin Luther] King gave there before he was assassinated in Memphis. These experiences can make the content come alive in a way that wouldn't if I had just said, 'Please read this sermon.'"
The civil rights course fundraising campaign was one of the 11 initiatives featured when VCU launched Igniter last fall on Giving Tuesday, a global day of giving celebrated annually on the Tuesday after Thanksgiving.
"Igniter is a great way to quickly showcase VCU's greatest areas of need, whether that's for a student organization or cancer treatments," says Michael P. Andrews (M.S.'05/E), executive director of the Office of Annual Giving, which organizes the university's crowdfunding efforts. "The array of unique campaigns featured on Igniter illustrates the creative and transformational work done by our students, health care providers and academic programs."
To learn more about crowdfunding at VCU, contact Michael P. Andrews (M.S.'05/E), executive director of annual giving, at (804) 828-0236 or andrewsmp@vcu.edu or visit Igniter.