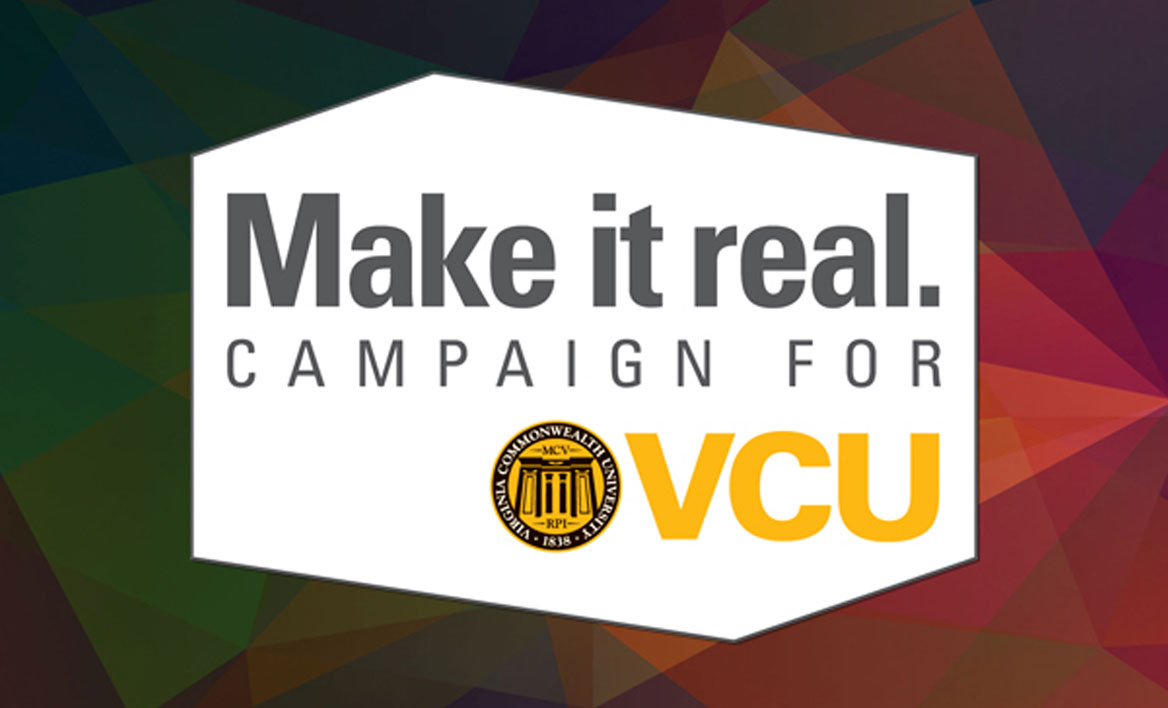 Campaign passes $500 million
The Make It Real Campaign for VCU, the largest fundraising effort in the history of Virginia Commonwealth University, has raised more than $500 million to date, the university announced Monday.
The $750 million philanthropic campaign, which began with a quiet phase in July 2012, launched publicly in September with a series of events on the Monroe Park and MCV campuses. The campaign counts all funds raised through June 30, 2020. Gifts support critical university initiatives and fuel growth in three primary areas: people, innovations and environments.
"This marks a major milestone in the Make It Real Campaign for VCU," said VCU President Michael Rao, Ph.D. "I am confident that this achievement will further catalyze our momentum because we — educators, researchers, care providers, creators, and community members and donors alike — are dedicated to the continued success of those who come to this renowned, premier public research university. I am grateful for the generosity of those who have given to VCU and invest in our mission of conquering the difficult to advance the human experience."
The $500 million raised has established 216 new endowed scholarships and student support funds, 49 new endowed professorships and chairs, and 59 new endowed faculty support and research funds. Additionally, funds raised during the campaign have supported the Institute for Contemporary Art, the renovation of Cabell Library, the Inger Rice Lodge at the Rice Rivers Center, and a new, 154,000-square-foot facility that will centralize all 11 units in the College of Health Professions under one roof.
More than 30,000 gifts have been made to VCU during the 2017 fiscal year, which ends June 30. It is the first time the university has surpassed that milestone. More than 12,000 of those gifts have been made by VCU alumni, surpassing the total number of alumni gifts made during the 2016 fiscal year. In addition, 13 schools and units are more than 60 percent of the way to their respective campaign fundraising goals.
"We are grateful to our donors who have generously supported the schools and units at VCU thus far in the campaign," said Chris Ritrievi, senior associate vice president for campaign leadership and constituency relations. "We are also appreciative of the great work our volunteers and development staff members have done. This significant milestone represents two-thirds of our $750 million goal but we have a lot yet to accomplish. We are confident that our alumni and friends will rise to the occasion and help us meet or exceed the campaign goal by June 30, 2020."
To learn more about the Make It Real Campaign for VCU, visit campaign.vcu.edu.