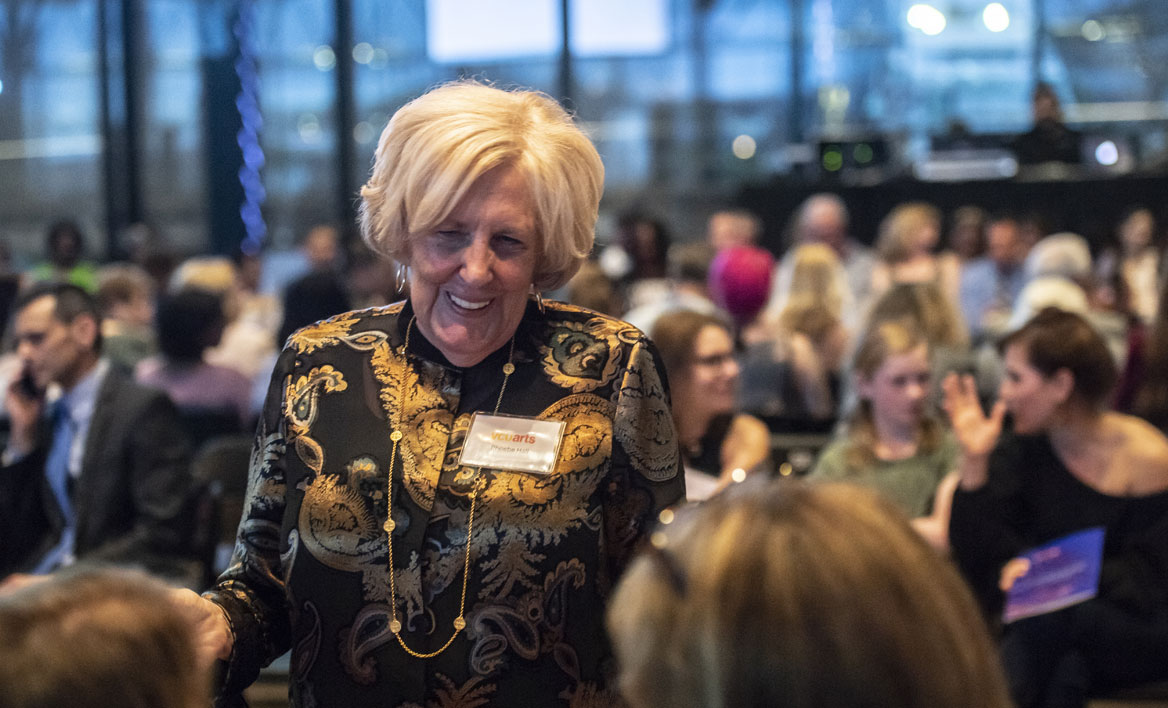 Endowment supports HIGHER Ground
A new endowment in the L. Douglas Wilder School of Government and Public Affairs will support leadership development opportunities for women through the school's Grace E. Harris Leadership Institute. Former Rector of the Virginia Commonwealth University Board of Visitors Phoebe P. Hall, who died in January, made a pledge in support of the Make It Real Campaign for VCU to create the endowment.
The Phoebe P. Hall Endowed HIGHER Ground Leadership Fund will provide need-based scholarships for GEHLI's HIGHER Ground Women's Leadership Development Program and honoraria to engage high-profile speakers for the HIGHER Ground program and annual conference. The pledge was made in honor of Hall's friendship with pioneering VCU administrator Grace E. Harris, Ph.D. (M.S.W.'60/SW), who died in February 2018.
"Grace and I shared a commitment to encouraging women to see themselves as leaders," Hall said in a November 2018 interview. "We both recognized how critical it is for women's voices to be heard. Women have so many unique strengths, and leadership development programs like HIGHER Ground help women learn to leverage those strengths."
A pioneer herself, Hall began practicing law when very few women were joining the profession.
"When I was in law school, there were very few women, so there were few role models to look to as guides for how women lead," Hall said. She became the first female public defender in Richmond, Virginia, and founded and managed her family's law firm, Hall & Hall PLC, for 50 years.
Specific criteria for the distribution of Hall's endowment is under consideration, but GEHLI Director Nakeina Douglas-Glenn says awards will be granted in accordance with Hall's values for advancing, developing and connecting women leaders.
"This award represents Mrs. Hall's commitment to the continued well-being and development of the community," Douglas-Glenn says. "It will allow us to provide development opportunities that will enrich the lives of others and widen the doorways of progress for leadership equity."
In the wake of Hall's death, her family has requested that those who want to honor her memory do so by making a gift to the Phoebe P. Hall Endowed HIGHER Ground Leadership Fund.
"Many of the things I've accomplished in my life happened because other people encouraged me and made me feel capable," Hall said. "Initiatives like HIGHER Ground inspire women to develop that vision for themselves early in life and give them the skills they need to set goals and achieve them."
Learn more about Phoebe Hall's legacy at VCU News.
To learn more about the Grace E. Harris Leadership Institute at the L. Douglas Wilder School of Government and Public Affairs, contact James Wasilewski, director of development, at (804) 828-6205 or wasilewskijr@vcu.edu.