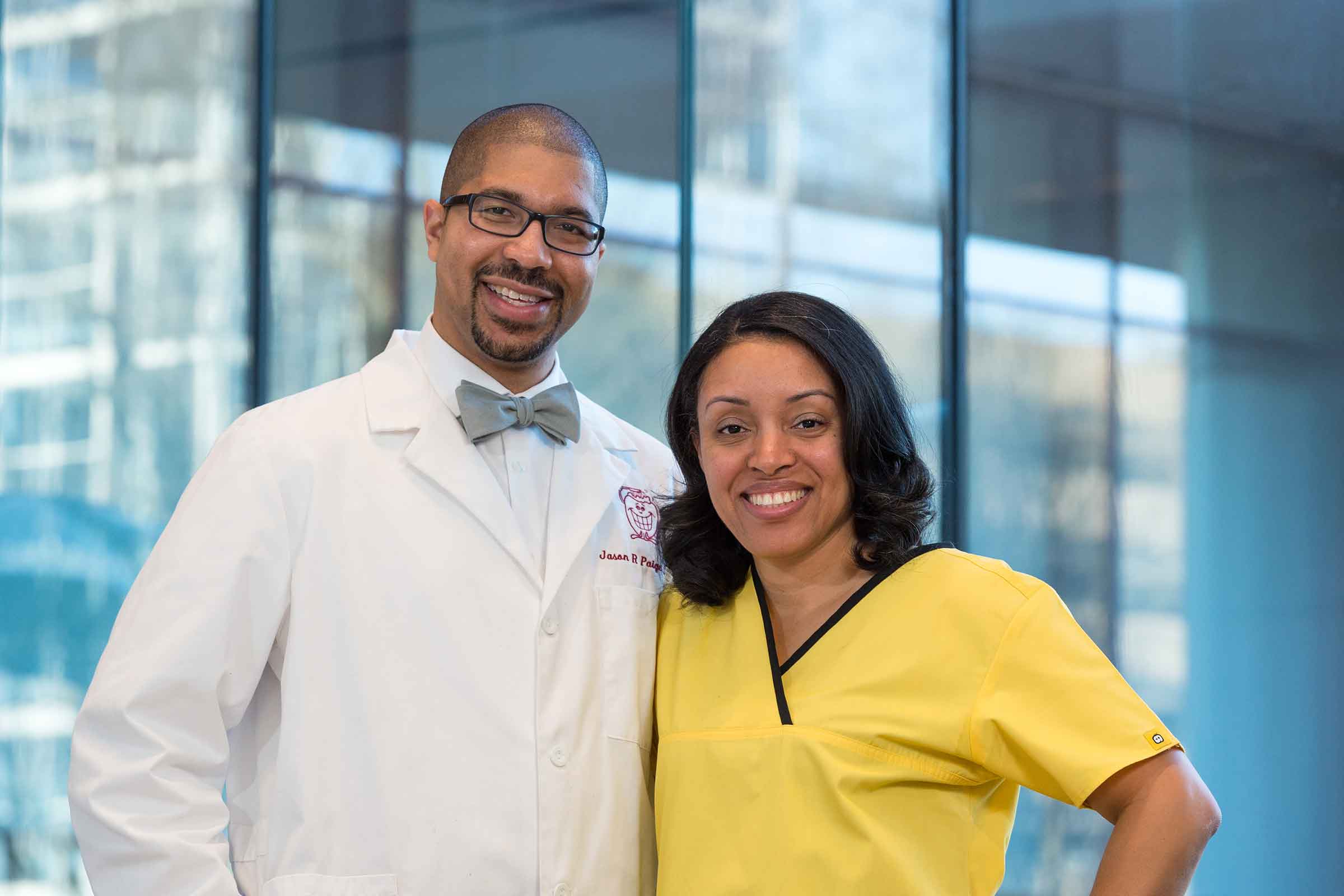 Alumni couple supports MCV Campus scholarships
Jason Paige, D.D.S. (D.D.S.'06/D), and his wife, Jamelle Paige, D.P.T. (D.P.T.'06/HP), are maintaining their connection to Virginia Commonwealth University through their support for the MCV Campus schools from which they graduated.
The couple fulfilled a $5,000 pledge to the VCU School of Dentistry in October 2013. The gift supported a scholarship named for former dentistry faculty member Francis M. Foster Sr., D.D.S., and ideas for additional gifts had already begun to surface and circulate between the couple. Jason had been heavily involved in dentistry-related events, mentoring programs and student activities, and Jamelle wanted to reconnect with the Department of Physical Therapy, especially by helping students.
"I didn't want students to have to reach a point of saying, 'I need a certain amount of money to stay in school,'" Jamelle says. "I've been very happy with my career as a physical therapist. I wouldn't want anyone to not fulfill that dream because of a monetary piece."
In most academic units on campus, $25,000 is needed to endow a scholarship, and thanks to many grateful students and friends, the Dr. Frances Foster/SNDA Scholarship to which Jason and Jamelle first donated has been endowed for several years. However, the couple's approach to their giving to the Department of Physical Therapy was different. They pledged $5,000 in January 2020 to a scholarship that was yet unnamed. Jamelle recruited other alumni and friends to make their own pledges, raising $25,000 to endow the Smith Legacy Scholarship for Diversity to support physical therapy students who embrace the principles of diversity and inclusion.
The couple cites relieving student financial burden as one of the primary motivations for their giving.
"When you get into a professional school, so many people will say you chose such a great profession, and to not worry about the debt," Jason says. "But I don't know anyone who doesn't worry about the debt, or it doesn't take up some space in the back of their mind. And especially for students from underrepresented minority groups, it might deter them from applying in the first place. I know the scholarship won't pay for the entire education, but hopefully it will alleviate some of that stress."
A version of this article was previously published by the MCV Foundation.
To learn more about School of Dentistry, contact Gloria Callahan, associate dean for development, at gfgreinercal@vcu.edu. To learn more about the College of Health Professions, contact T. Greg Prince, Ed.D., senior director of development, at (804) 828-7247 or tgprince@vcu.edu.