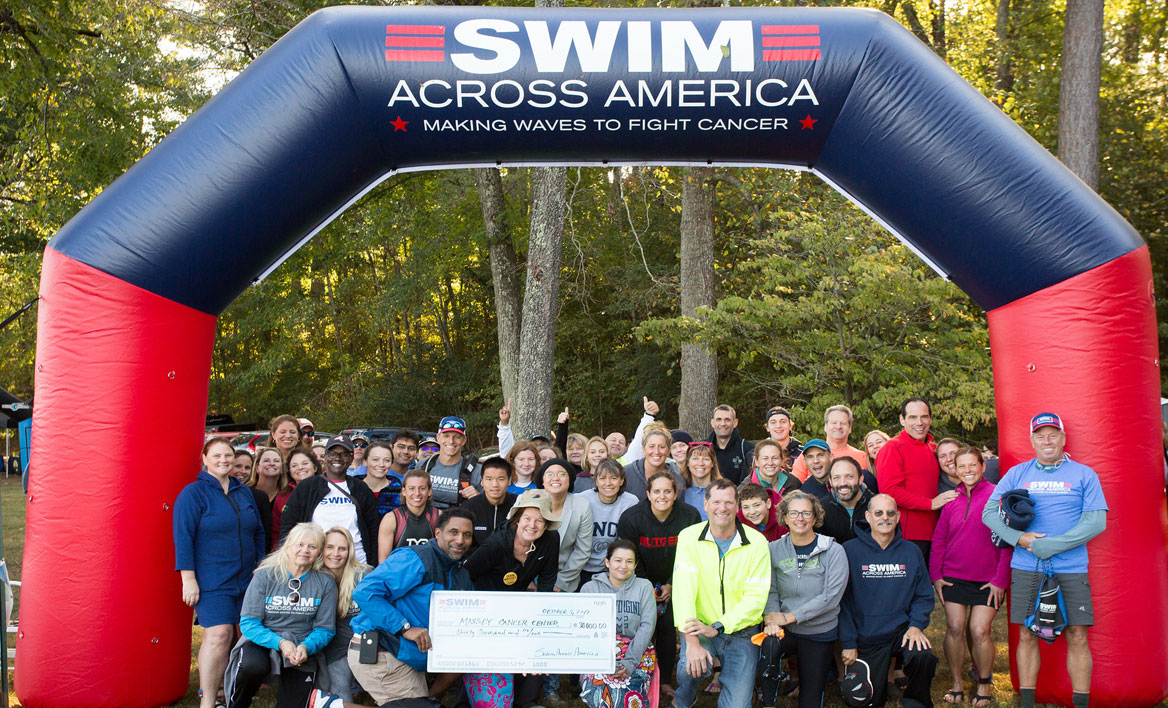 Fundraisers make waves to fight cancer
The morning of Oct. 5 began with cool autumn temperatures, but the James River remained ideal for participants in the second annual Swim Across America Richmond Open Water Swim. Stroke by stroke, swimmers of all abilities took to the water, the culmination of weeks- and sometimes monthslong fundraising efforts to support VCU Massey Cancer Center's lifesaving cancer research.

New this year, fundraisers could take a leisurely float downriver rather than a swim. This option proved to be an entertaining part of the day, as a parade of inflatable pizza slices, unicorns and a giant, hot pink flamingo drifted to the finish line.
Event participants raised close to $33,000. Among the top fundraisers was two-time Massey team captain Santiago Lima, Ph.D., a member of Massey's Cancer Cell Signaling research program and a former competitive swimmer. His passion for philanthropy is fueled by his family's experience with cancer: In 2017, his wife, Amanda Dickinson, Ph.D., an associate professor in the College of Humanities and Sciences, was diagnosed with stage IV melanoma. It's a disease that, before advancements in immunotherapy, usually came with a grim prognosis.
"We believe she was lucky to have been treated at a place like Massey, which is at the forefront of fundamental research and clinical trials that make new therapies possible," Lima said. "It is the development of new treatments that is now changing those grim statistics."
Dickinson is part of a new era for melanoma patients. She has been in remission for a little more than a year.
"When you hear fundraising campaigns say 'Every donated dollar can make a difference,' it is not a slogan, it is a reality," Lima said. "Millions and millions of dollars are spent to make small advances, and it takes many, many, many small advances to develop one single, modern effective anti-cancer therapy. Amanda is living proof of how this can make a real difference to people."
Photo by Joe Sites
To learn more about Massey Cancer Center, contact Martha Quinn, executive director of development, at (804) 827-0652 or mquinn3@vcu.edu.