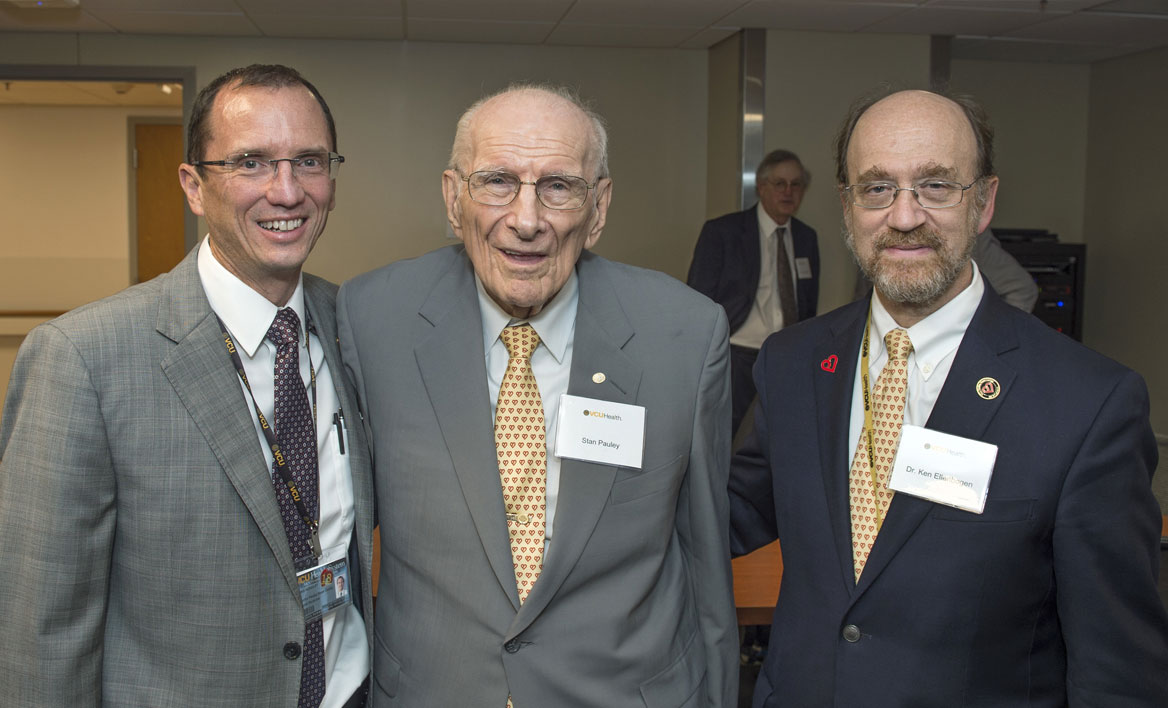 Gift advances cardiac care at VCU Health
A donation to the Make It Real Campaign for VCU from the Pauley Family Foundation will help the VCU Health Pauley Heart Center address urgent unmet needs in the management of cardiac arrhythmia – a condition that affects more than 4 million Americans and manifests in harmful irregular heartbeats.
The $5 million gift will support the next evolution of comprehensive treatments for patients with this condition. It will help VCU Health researchers and clinicians perfect their diagnoses and develop and deliver innovative therapies to cure adverse heart rhythms in an effective, cost-efficient manner.
"The gift will fund the equipment necessary to diagnose and treat arrhythmia disorders, one of the major adverse consequences of cardiovascular disease," says Greg Hundley, M.D., director of the Pauley Heart Center.
Specifically, the funds will help expand imaging in the field of electrophysiology, Hundley says. The new imaging devices will allow physicians to see precisely where – and most importantly why – the electrical issues in the heart are originating so they can be ablated or defibrillated.
The gift also plans to fund a research operating room in the Cottrell Surgical Innovation Suite and outfit the Pauley Heart Center Imaging Clinic with an advanced cardiac MRI scanner and CT scanner, expanding non-ionizing radiation (or X-ray) imaging capabilities. The ability to provide cardiac imaging to patients with implanted devices will allow VCU Health to more efficiently diagnose and treat diseases such as atherosclerosis, cardiomyopathy, heart failure, aorta aneurysm, heart valve disease and cardiac tumors.
"It pleases me to support the center's research and innovation in the area of cardiac arrhythmia, whereby their discoveries will continue to improve lives in our community," says Stanley Pauley, a former heart center patient who oversees the Pauley Family Foundation along with his wife, Dorothy, and daughter Katharine Pauley Hickok. In 2006, the foundation gave its first $5 million gift to the VCU heart center, which was later renamed the Pauley Heart Center.
Previous gifts from the Pauley Family Foundation are helping VCU Health stay at the forefront of cardiac care nationally. The recent purchase of a 3T MRI scanner brought the latest technology to VCU Medical Center and filled a critical need in cardiac imaging regarding management of patients with coronary heart disease and heart failure. From this investment, Pauley has increased the number of cardiac MRIs by 95% in the first year and prevented at least 87 heart attacks. Additionally, with the funds, five researchers were recruited to develop and test innovations toward management of patients with coronary heart disease and heart failure.
A version of this article was previously published by VCU News.
To learn more about VCU Health, contact Carrie Bickford, interim director of development, at (804) 828-3652 or carrie.bickford@vcuhealth.org.