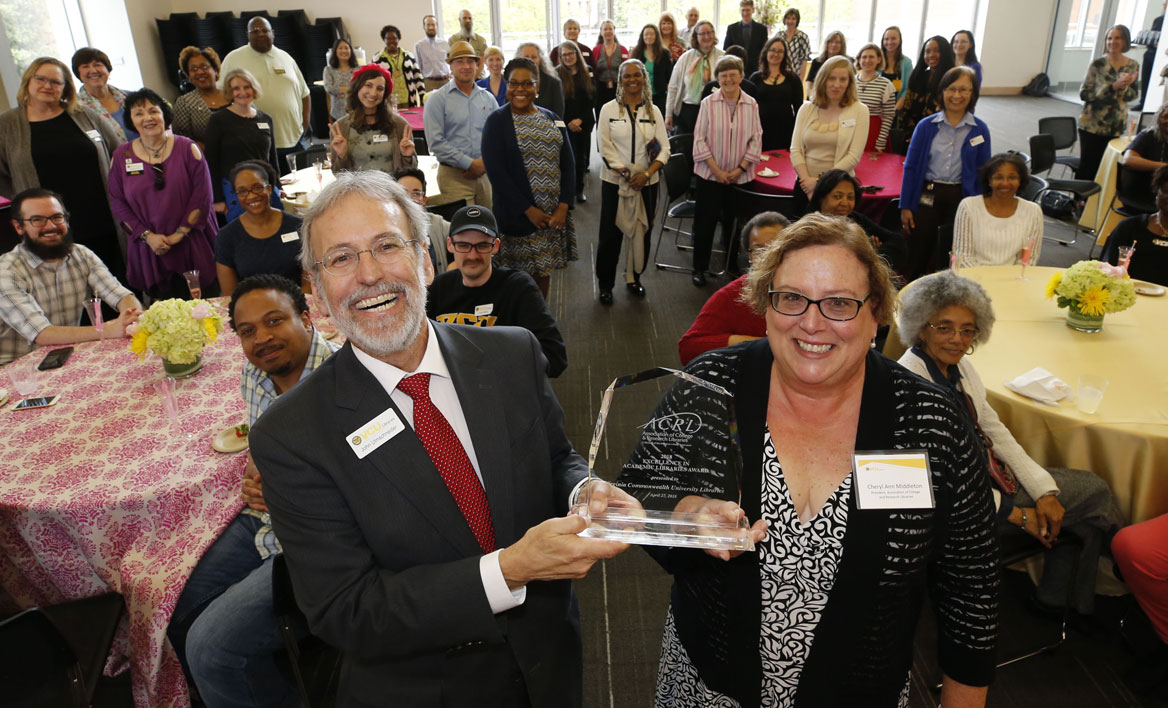 VCU Libraries receives award
VCU Libraries was one of three recipients of the 2018 Excellence in Academic Libraries Award in April. Sponsored by the Association of College and Research Libraries and GOBI Library Solutions from EBSCO, the annual honor recognizes staff at college, university and community college libraries for providing exemplary programs, resources and services.
During a spring award ceremony on campus, VCU Libraries accepted a plaque and a $3,000 cash prize, which will be allocated to the Special Collections and Archives Endowment and will support VCU Libraries' fundraising goal for the Make It Real Campaign for VCU.
VCU Libraries was the winning library in the university category and was selected for its services, initiatives and role within the campus community, says Ann Campion Riley, chair of the 2018 Excellence in Academic Libraries Committee and vice provost and university librarian at the University of Missouri.
"We are deeply honored by this distinguished recognition from ACRL," says John E. Ulmschneider, university librarian. "The faculty and staff of the VCU Libraries have worked with creativity, passion and immense dedication to create an exemplary research library for the 21st century and to fulfill our mission of transforming our communities through our teaching, collections and scholarship."
Photo by Joe Mahoney.
To learn more about VCU Libraries, contact Kelly Gotschalk (B.F.A.'90/A; M.A.'97/A), director of development and major gifts, at (804) 827-1163 or kjgotschalk@vcu.edu.