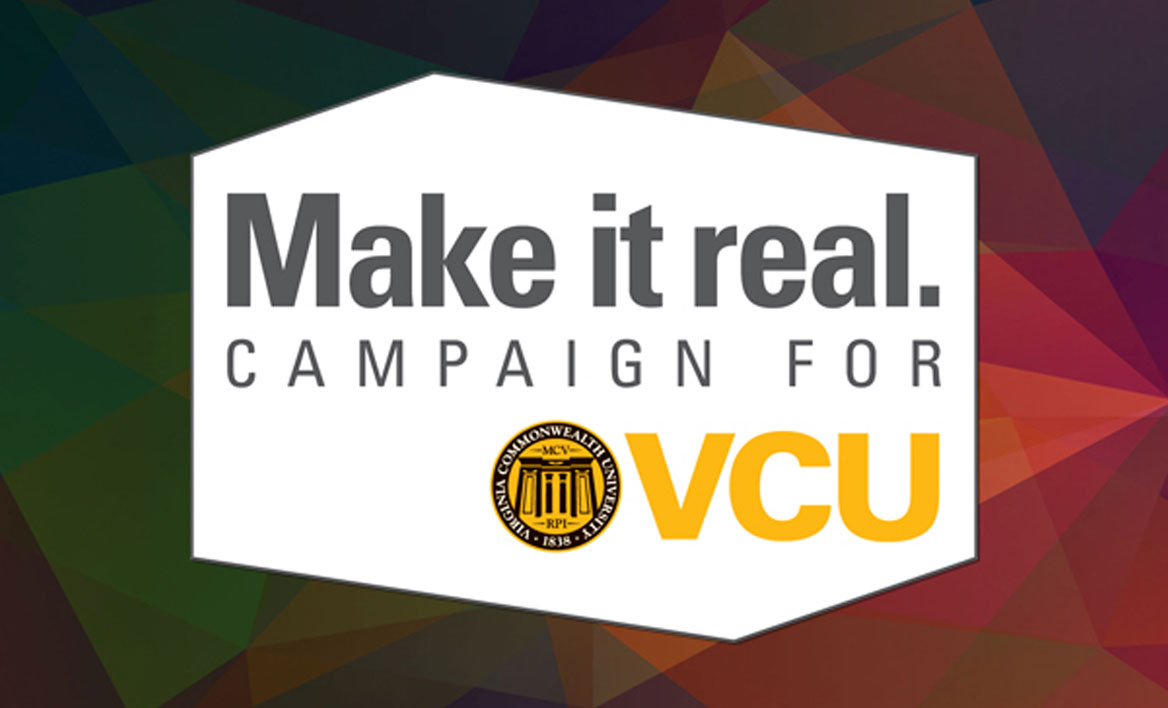 VCU launches fundraising campaign
Virginia Commonwealth University has launched the public phase of the $750 million Make It Real Campaign for VCU, the largest fundraising effort in the university's history.
The Make It Real Campaign for VCU will impact every aspect of the university: students, alumni, faculty and staff, patients, caregivers, researchers, schools, libraries, centers and institutes, athletics and the community. VCU President Michael Rao, Ph.D., announced the campaign's fundraising target at an event tonight at the James Branch Cabell Library.
"The Make It Real Campaign will transform VCU and help us continue to transform lives in Richmond and beyond," Rao said. "Our faculty, students, patients, community partners and everyone who crosses paths with VCU will benefit. Our translational and transformational research mission will continue to advance the human experience. Our facilities will meet the needs and match the talents of our people. Our world-class patient care will help more people live longer, healthier lives. We are a global university, and the impact of this campaign will be global."
The public phase of the campaign follows a silent period, which began July 1, 2012. VCU has raised $439.7 million since that soft opening. The campaign counts all funds raised through June 30, 2020. Because the Make It Real Campaign for VCU is a comprehensive fundraising initiative, every school and unit within the university has established a goal for the campaign. Donors can contribute to the campaign with a gift to these individual units or to VCU as a whole.
"The university plays a vital role in our city and region, serving a broad range of students, patients and citizens," said John Luke, rector of the VCU Board of Visitors. "This campaign provides an opportunity for all of us to support something at VCU, whatever our interests or passions may be."
Gifts to the campaign support critical initiatives that promise to become points of distinction for VCU long into the future. In particular, the campaign will fuel growth in three primary areas – people, innovations and environment.
People
Funds raised through the campaign will attract, support and retain the finest students and faculty through scholarships, professorships and endowed chairs. Money from the campaign also will provide students with purposeful, hands-on learning and living experiences, and faculty with support for startup research ideas.
Innovations
The campaign will help create new interdisciplinary partnerships and centers of excellence to offer students and faculty the right environments for meaningful research and learning experiences that will expand the university's ability to solve complex local and global challenges through inquiry and discovery.
Environments
Through funds raised during the campaign, VCU will provide world-class facilities, equipment and materials to expand the university's research capacity. In addition, the campaign will increase the impact and sustainability of VCU's community partnerships and its resources in education, health and workforce development.
"The ultimate goal of the Make It Real Campaign for VCU is to change lives," said Marti K. S. Heil, vice president for development and alumni relations at VCU. "Not just those of students and faculty, but those of the countless others touched by our graduates, researchers and educators in this community and farther afield. But we know that not everybody has the capacity to make a lifechanging gift. This campaign also aims to build our donor base by engaging more alumni and new friends, so that every gift, no matter the size, will help us bring about these powerful transformations.