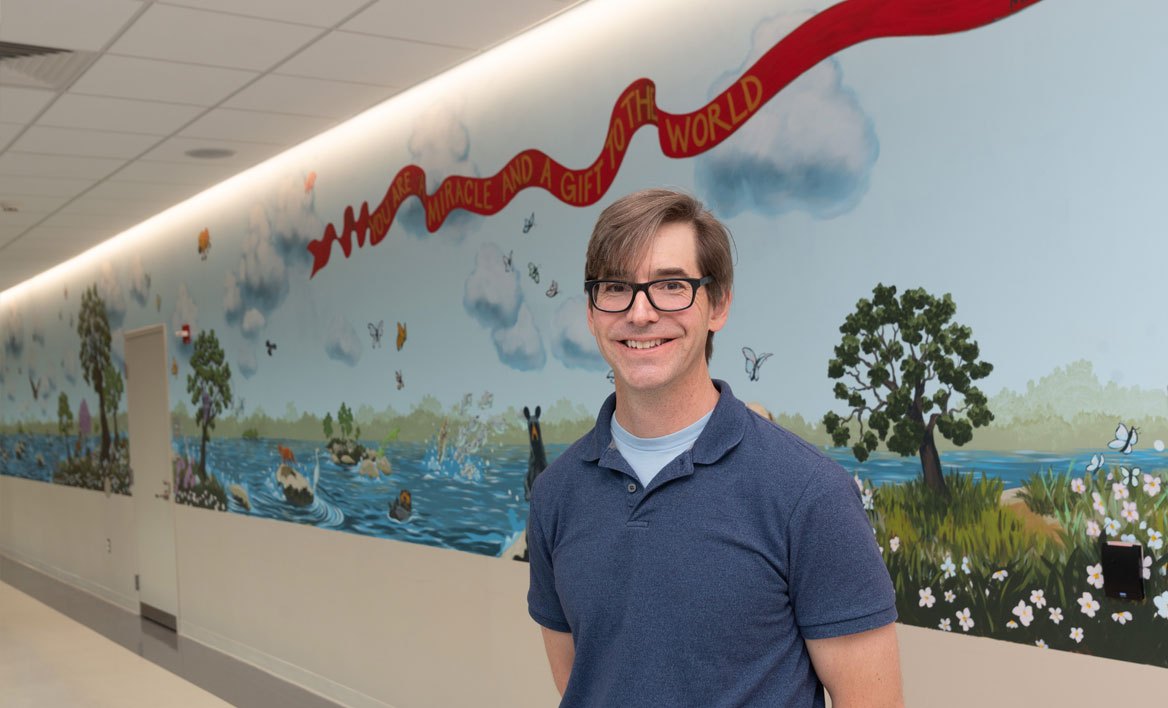 Arts graduate Lively contributes to VTCC
Richmond, Virginia, artist Matt Lively (B.F.A.'93/A) recently completed a sprawling mural measuring 100 feet long and 10 feet high along a hallway in the inpatient area of the Virginia Treatment Center for Children, the pediatric behavioral health arm of the Children's Hospital of Richmond at VCU and the child and adolescent division of the VCU Department of Psychiatry. Like much of the art at the VTCC, the mural depicts the James River and the wildlife that lives in and around it.
"The wall was long, so the river was an appropriate subject," Lively says. "As patients and staff walk down the hall, they can virtually walk along the river bank and spot more than 150 animals along the way."
Lively is one of several local artists creating commissioned murals at the VTCC thanks to a $100,000 art-acquisition gift from the Children's Hospital Foundation in support of the Make It Real Campaign for VCU.
"Murals allow me to speak to the community without being there," says Lively, who painted a mural in the lobby of the Children's Hospital of Richmond at VCU in 2016. A graduate of the VCU School of the Arts, Lively is happy to have his work displayed at the university. Throughout the process, he kept in mind those who would be impacted by his work.
"My focus was really on the parents and kids who would be visiting these places," he says. "From sketching to installation, I tried to put myself in their shoes. I wanted to give them familiar imagery to provide an anchor to distract them from what might be a scary and unfamiliar situation for them."
May is Mental Health Awareness Month. To learn more about the VCU VTCC and the Department of Psychiatry, contact Lynn Meyer, director of development, at (804) 827-6297 or lynn.meyer@vcuhealth.org.