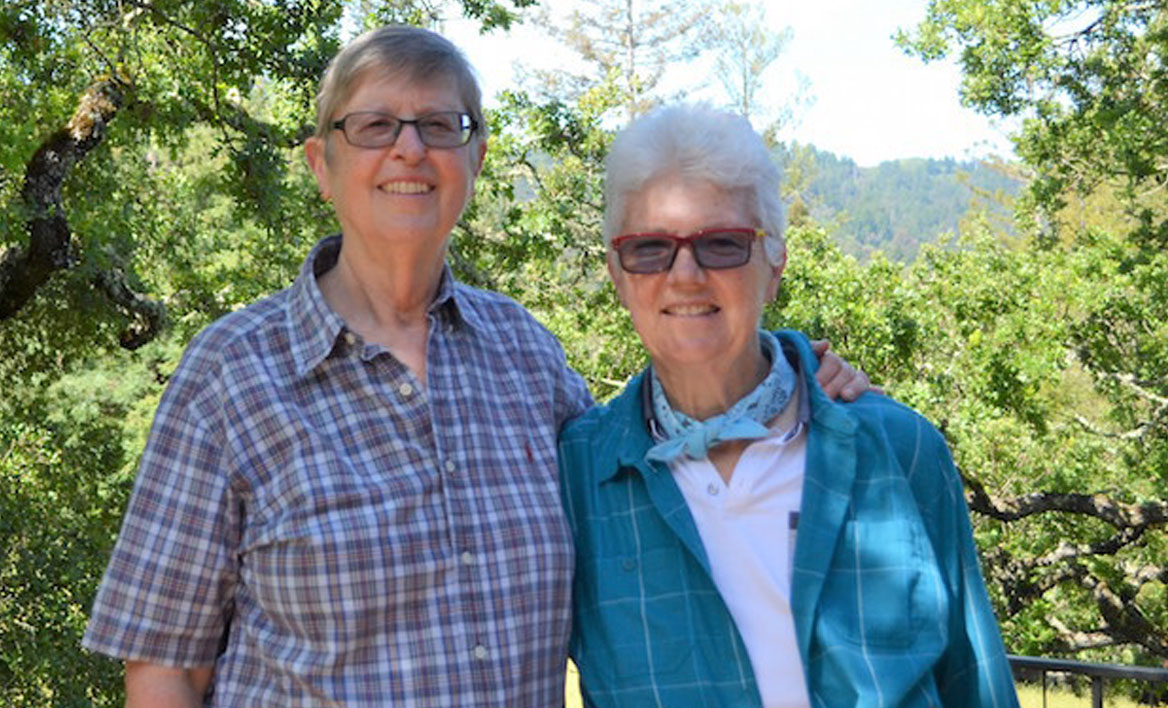 $1M gift creates new H&S scholarship
When her parents got divorced during her junior year at what is now the University of Mary Washington, Iris Harrell (M.Ed.'75/E) worried that her education was in jeopardy. She didn't have enough money to supplement the scholarships that had enabled her to be the first member of her North Carolina farming family to attend college. Administrators at the university helped her find additional scholarships to cover the difference.
"I was able to finish school, and my life has been way different – and better – because I got a college degree," she says.
Harrell went on to earn a master's degree from the Virginia Commonwealth University School of Education in 1975. She taught for several years, was a touring folk musician and ultimately founded a successful construction and remodeling company in California with her wife, Ann Benson.
Now she is giving back to help students like her obtain an education.
Harrell and Benson have made a $1 million planned gift to the Make It Real Campaign for VCU to create the Harrell-Benson Scholarship for students in the Department of Gender, Sexuality and Women's Studies in the College of Humanities and Sciences.
"Scholarships are about your legacy," Harrell says. "I got mine. I want to make sure that the next generation of people get theirs."
In addition to the $1 million gift, Harrell and Benson, along with friends and college faculty, are giving a total of $4,000 this year so that the first Harrell-Benson Scholarship can be awarded this fall.
The scholarship will be awarded to an undergraduate student majoring or minoring in gender, sexuality and women's studies. Students in need of financial support will be given preference, as will those who are the first in their family to attend college.
"This scholarship reinforces our commitment to a liberal arts education that provides an environment for dialogue, training and application of scholarship in gender, sexuality, LGBTQIA+, race, class and women's issues," says Montse Fuentes, Ph.D., dean of the College of Humanities and Sciences. "The college welcomes through this scholarship the opportunity to impact the lives of many generations of students in financial need, while nurturing a culture of inclusion and positivity."
Kathleen M. Ingram, Ph.D., associate professor and chair of the Department of Gender, Sexuality and Women's Studies, says the Harrell-Benson Scholarship will be life-changing for many students in the years to come.
"We are overwhelmed with gratitude as we envision the students who will benefit from the scholarship, including students who might not be able to attend VCU otherwise," she says. "The Harrell-Benson Scholarship will produce countless ripple effects in helping to create a world where LGBTQIA+ people and those from other marginalized groups are truly valued and celebrated."
A version of this article was previously published by VCU News.
To learn more about the College of Humanities and Sciences, contact Bethanie Constant, senior director of development, at (804) 828-4543 or constantb@vcu.edu.