Universitywide development and communications staff
Institute for Contemporary Art
Visit the Institute for Contemporary Art website.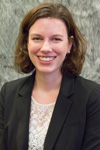 Susan Norkus (M.A.'15/A)
Interim Director of Development
Phone: (804) 828-2815
Email: smnorkus@vcu.edu
View bio
Norkus is a graduate of VCU School of the Arts, earning a master's in art history with a concentration in museum studies. Norkus also held internships at VCU's Anderson Gallery and the Virginia Museum of Fine Arts. A native of Raleigh, Norkus developed an early appreciation for the arts through volunteer opportunities at the North Carolina Museum of Art and local non-profits, Artspace and Arts Together. She received her bachelor's degree in art history from Denison University in Granville, Ohio.