Universitywide development and communications staff
College of Humanities and Sciences
Visit the College of Humanities and Sciences website.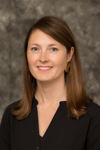 Caitlin Smith Hanbury (M.A.'12/A)
Assistant Director of Community Affairs
Phone: (804) 827-0862
Email: cshanbury@vcu.edu
View bio
Caitlin Hanbury was named the assistant director of community affairs for the College of Humanities and Sciences in July 2018. She earned a B.A. in art history and English language and literature from the University of Virginia in 2005 and an M.A. in art history with a concentration in museum studies from VCU in 2012. She handles reputation management and stakeholder strategic messaging with a focus on alumni, donors, prospects and the larger community for the College of Humanities and Sciences. She previously served as the stewardship manager for the college and, before VCU, served as a development associate for the Maymont Foundation and as a programs and exhibitions manager for the Hermitage Museum & Gardens.
Alexis Finc
Director of Communications
Phone: (804) 827-1351
Email: alfinc@vcu.edu
View bio
Alexis Finc is the director of communications for the VCU College of Humanities and Sciences. She is responsible for all internal and external communications, strategic messaging, and creative positioning for the college. Prior to joining VCU, Alexis spent the last six years overseeing communications at two different independent schools, Saint Gertrude High School in Richmond and Flintridge Sacred Heart Academy in Los Angeles, where she worked on numerous digital and print materials, marketing efforts, web and social media presence, fundraising collateral and overall communications strategy.

Before entering the world of educational communications, Alexis worked as an editor and writer in New York and Los Angeles for such companies as NBC Universal, Seventeen Magazine and Total Beauty Media. Alexis earned her B.A. in women and gender studies and English from Rutgers University and an M.F.A. in creative writing - poetry from the University of North Carolina Wilmington. She currently lives in the Museum District with her husband and young son.
Anne Cabot Galeski
Major Gift Officer
Phone: (804) 827-1306
Email: acgaleski@vcu.edu
View bio
Anne Cabot Galeski joined the VCU team in 2019 as a leadership annual giving officer. Before joining VCU, Galeski spent over four years at Randolph-Macon College as assistant director for annual leadership giving and major gift officer. Before her development career, Galeski worked in private wealth management at Scott & Stringfellow in Richmond and Merrill Lynch in Washington, D.C. In 2009, Galeski received a bachelor's in sociology from the University of Virginia, where she was also a member of the field hockey team. She also holds a Certificate of Planned Giving from the University of Richmond and completed the Southeastern Trust School certificate program through Campbell University's Lundy-Fetterman School of Business in 2019.