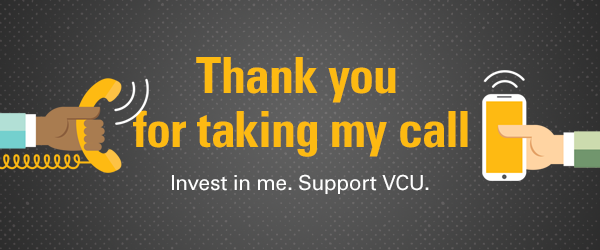 Gold Line Call Center
Did you receive a call from (804) 827-3863? That's a VCU Gold Line student calling you!

Through phone calls made by a diverse group of students, the VCU Gold Line contacts thousands of alumni each year. The student callers will talk to you about the latest happenings on campus, and they'll also offer you the opportunity to give back to the university. The VCU Gold Line is dedicated to the advancement of your alma mater by generating private support, while making real connections between students and alumni. These connections are at the core of the calling center.
What Gold Line does
Taking the time to speak with a Gold Line caller offers you a chance to:
Join with fellow alumni to help VCU create new and exciting opportunities for students.
Find out the latest information about VCU, answer questions and pass along your comments.
Update your address, phone number and e-mail information to ensure that you receive the latest information from the university.
Share your experiences at university and in the world beyond so that students can better understand and learn from those who have gone before them.
Why work at Gold Line?
Earn a great wage while helping impact the growth of VCU.
Easy to access. We are located at 111 N. 4th Street, Richmond, VA 23219.
Build your communication skills and learn how to negotiate, which helps strengthen your resume. With time, there are opportunities for peer leadership roles.
A relaxed work environment where you can earn cool prizes and study while having fun at work.
The commitment for Gold Line student callers
Callers are required to work a minimum of three shifts per week. Available shifts are 5:30-9:00 p.m. Monday-Thursday and 12:00-3:00 p.m. and 4:00-7:00 p.m. Sunday.
The Gold Line call center works from a standardized scheduling system to ensure shifts and stations are filled. Requests for certain days off from a shift are reviewed on a case-by-case basis.
Interviews for the fall semester begin in early August. Regular work schedules begin in mid-August.
Please email goldline@vcu.edu with any questions about employment.