Gold Line Call Center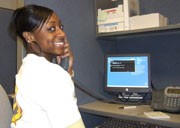 About us
Each fall and spring semester, student Gold Line representatives call VCU alumni to achieve the call center's mission of building relationships, keeping alumni informed about VCU and making the case for annual financial support. Our Gold Line callers are essential to the VCU mission, to the success of the university and to maintaining and building new relationships with our alumni. Gold Line callers contact thousands of alumni each year to ask for their support of VCU.‌
What Gold Line does
Taking the time to speak with a Gold Line representative means:
Joining with fellow alumni to help VCU create new opportunities for students.
Students will share information about VCU, ask questions and pass along alumni comments.
Students will update addresses, phone numbers and e-mail information to ensure that alumni are receiving the latest information from the university.
Students will listen to VCU alumni to better understand and learn from their experiences at the university.
Why work at Gold Line?
Earn a wage while helping VCU.
Easy to get to. Located at 111 N. 4th Street, Richmond, VA 23219 and on the VCU Ram Ride 4th Street stop.
Build communication and negotiation skills, strengthening your resume along the way, with opportunities for peer leadership.
Earn cool prizes and have fun.
What is the commitment for Gold Line callers?
Callers are required to work a minimum of three shifts per week and must commit to work at least 9.75 hours a week. Available shifts are 6-9:00 p.m. Monday-Thursday and 2:15-5:15 p.m. and 5:30-8:30 p.m. Sunday.
The Gold Line call center standardizes scheduling to ensure shifts and stations are filled. Request for certain days off a shift are reviewed on a case by case basis
Interviews for fall 2017 begin in early August. Regular work schedules begin mid-August.
Please email goldline@vcu.edu with any questions about employment.