Faculty and staff philanthropy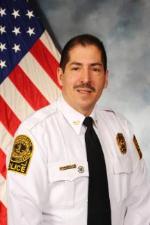 VCU Police Chief John Venuti will serve as honorary chair of the 2017 faculty, staff, retiree fundraising campaign. The campaign launches April 3 and concludes May 12, although gifts made throughout fiscal year 2017 are part of the campaign.
Campaign committee Co-Chairs are Andrew Daire, Ph.D., dean of the School of Education, and Joseph DiPiro, Pharm.D., dean of the School of Pharmacy. Committee members are Michael Davis, professor emeritus in the School of Education; Linda Pearson (B.S.'74/B), retired senior vice president of finance at VCU Health; Carlos Brown (B.S.'91/AHP; M.S.'02/AHP), executive director of support services for VCU Health; Sania Marcoccia, president of the VCU Staff Senate; and Holly Alford (M.F.A.'97/A), president of the VCU Faculty Senate.
Last year, the faculty, staff and retiree campaign drew 1,757 donors and raised $3.78 million.
Once again, the campaign's goal is participation. No matter the amount of the donation, we need everyone in our VCU family to participate and make giving real! Giving is easy through payroll deduction for VCU faculty and staff and team members at VCU Health.
When you give, "they" give. "They'' are alumni and friends who support the mission of VCU and VCU Health. Making a gift to support VCU is your opportunity to say that you believe in the mission. Your participation demonstrates that VCU is one of the best possible investments for a potential donor's philanthropic support.
Your gift has the power to inspire innovation, encourage excellence and transform dreams into discoveries. Faculty and staff members who donate to the university are ideally positioned to identify areas of need that might not be well supported. Through donations, we can change lives and grow our culture of giving at VCU.