Corporate partners, sponsors and matching gifts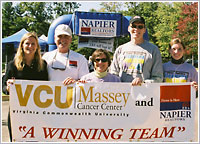 Increasingly, corporations have moved toward a targeted, strategic model of philanthropy where contributions can be characterized as strategic investments, often with the intent of generating some return that will eventually improve profits. Unlike foundations, they are not required to give away money (unless they operate a corporate foundation); when a corporation elects to make a gift, it also views it as an investment. Consequently, securing corporate support requires a keen understanding of how your project will appeal to the corporation's strategic interests.
Moreover, corporations increasingly target a small group of preselected colleges and universities to form strong strategic alliances that benefit them, including helping to strengthen their public image, assisting them in recruiting top students and facilitating key research relationships. Universities also benefit from corporate partnerships through gifts-in-kind and donations of products and services, internships and employment opportunities for graduates, and a vast array of potential collaborations, including executive guest lecturers and joint research projects.
Corporations frequently make their most significant contributions to universities through internal corporate channels not connected with their corporate foundations. These channels include marketing, recruiting and research budgets within the company, and these investments often lead to subsequent funding from their corporate foundations. As corporate investments become increasingly strategic, programs that demonstrate a clear potential return might expect to reap larger proportions of corporate funding.
Based on: Austin, James, "The Collaboration Challenge: How Nonprofits and Businesses Succeed Through Strategic Alliances, Harvard Business School," 2000
Are corporations the right source?
While company foundations generally follow the same patterns as other charitable foundations (i.e., formal areas of giving, guidelines for submissions, clear deadlines and review processes), the gifts from corporations are usually motivated by enlightened self-interest where the company is seeking to accomplish its own internal objectives through the gift (i.e., improving science education, increasing the pool of qualified minorities in a particular field or facilitating a marketing goal through placement of the company's name on campus facilities). It is critical to know the specific interests of a potential corporate partner before making a request.
Before approaching corporate partners, obtain the support of your chair, dean and development office (if appropriate). Then consult the CFR staff.
The nature of corporate partnerships
Corporate relationships should be viewed as partnerships where each party stands to benefit in some way. Common intersections between universities and corporations include:
Alumni employees
Internships and recruiting relationships
Intellectual Property (IP) – licensing and commercialization of technology
Company notification/access to seminars, lectures, university libraries
Collaborative and/or contract research (sponsored research agreements)
Faculty, researcher, executive-in-residence exchanges
Subcontracts and matching support on federal grants
Conferences, just-in-time and custom education
Executive education, health and services
Sponsorships and uses of marketing funds for athletic events, exhibits, conferences, etc.
Philanthropic support of specific programs and projects (i.e., scholarships, professorships, centers, buildings, etc.)
There are a number of areas of VCU that intersect with the corporate community. Selected areas include:
Research
Research @ VCU
Office of Industry Partnerships
VCU Tech Transfer
Virginia BioTechnology Research Park
Recruiting
VCU Career Center
Corporate education
VCU Center for Corporate Education
Academics
VCU Life Sciences
VCU School of Engineering
VCU School of Business
Community solutions
Division of Community Engagement
Athletics
VCU Athletics
Corporate sponsorships vs. corporate philanthropy
Corporate sponsorships have become increasingly popular in recent years. These sponsorships are distinctly different from corporate philanthropy and, as such, are generally funded through areas of a corporation that are outside the auspices of the company's philanthropic activities. Corporate sponsorships typically involve an event where the company will underwrite some or all of the event-related expenses in exchange for an opportunity to associate their name with the event. The basic purpose of corporate sponsorship, as distinct from corporate foundation grants or direct corporate gifts, is that the corporation expects some kind of marketing opportunity as a result of their support. As a result, the demographics of the target audience for the event as well as the nature and purpose of the event are important considerations for any corporate sponsor. As sponsorships are often contractual in nature, proper university channels exist for managing these sponsorship contracts to protect all involved. For more information about securing a corporate sponsorship for your event, contact the CFR office.
Corporate matching gifts
Corporate matching gift programs in the U.S. alone contribute more than a billion dollars annually to nonprofit organizations (based on a 10 percent share of a total $12.19 billion overall given by corporations and foundations) ("Giving USA", 2003).
Anywhere from 10 percent to 12 percent of all corporate cash gifts are donated specifically through matching gift programs. Research suggests that 20 percent to 30 percent of eligible donors do not claim matching gifts even when they are eligible because they are not aware that their company matches or because they find the process too complicated.
VCU offers donors a Web site where they can research their company's matching gift program, www.matchinggifts.com/vcu. Corporate matching gifts can help donors double their gift and the donor can receive giving club credit for their company match. Corporate matches also help VCU build valuable partnerships with the business community.
How are matching gifts processed?
Matching gift forms that are submitted by donors and sent directly to a development officer should immediately be forwarded to Cash Ops or MCVF along with a GTF. Matching gift forms that are submitted by donors and sent directly to a development officer should immediately be forwarded to Clair Isenberg in Gifts and Records Management or the MCVF. If the matching gift form is accompanied by a check from a donor, a complete gift transmittal form must also accompany the donor's check.
Matching gift money is credited to both the company and the individual donor who initiated the match. The corporation will receive a receipt for their matching gift and the donor will receive "soft credit" for their corporation′s gift. VCU will also notify the donor by mail when their company pays the match. Matching gifts can qualify a donor for the next giving club so if you are concerned about a matching gift payment that has not been submitted, please contact Clair Isenberg in Gifts and Records Management. Quarterly, CFR staff contact companies with overdue, unpaid matches in an attempt to make sure that all paperwork was received.
If a donor works for a matching gift company and does not send in a matching gift form with his or her gift, the gift receipt directs the donor to initiate the match. Donors who work for matching companies who have not initiated their match (i.e., have not sent us a matching form or online verification of match request) within 60 days will receive a reminder letter asking them to initiate their match.
For more information about VCU's matching gift program, contact Clair Isenberg at (804) 828-0632 or cparker9@vcu.edu