Securing private funding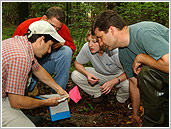 VCU's Corporate and Foundation Relations office works to secure private support for university priorities by fostering relationships with corporations, foundations and other philanthropic organizations. Housed in Central Development, the CFR staff works alongside schools, centers and research units on the Monroe Park Campus and the MCV Campus to identify and coordinate activities with corporations and foundations to secure support for research, academic and outreach projects. The CFR staff works closely with the VCU Office of Research to pursue funding and to manage the grant process.

The Corporate and Foundation Relations office:
Encourages and manages the identification, cultivation and solicitation of corporate and foundation partners capable of making significant gifts to VCU.
Coordinates relationships between members of the university community and our corporate and foundation contacts.
Provides research assistance and resources and offers strategic guidance on prospect identification, solicitation and the development of proposals and stewardship reports.
Ensures that funding requests and related reports are submitted in a timely and professional manner.
Coordinates the stewardship of corporate and foundation gifts.
Some of the ways that the CFR staff can help include:
Offering advice on strategic identification, cultivation and solicitation of potential funding sources.
Providing guidance in strategy development to ensure a coordinated approach.
Assisting in the development of prospect lists and related background information.
Reviewing and editing letters of inquiry and grant proposals.
Facilitating the acquisition of university approvals, endorsements and supporting documentation.
Stewarding relationships.
Successful CFR initiatives
Jessie Ball duPont Fund - Since 1989, the duPont Fund has given nearly $3 million to VCU. The CFR staff has worked with multiple schools and divisions to develop, submit and steward grants that resulted in the establishment of the Grace E. Harris Leadership Institute and its Higher Ground program, VCU Community Solutions, the Richmond Datashare project, the Nonprofit Enterprise Institute, the Thomas Palliative Care program in Richmond and the Northern Neck, and the Virginia Coordinated Care program.
Howard Hughes Medical Institute - The CFR staff worked with faculty and administration from throughout the university over the course of a year to develop and submit its first successful proposal under VCU Life Sciences for HHMI's Undergraduate Science Education. In 2006, HHMI awarded $1.5 million to VCU to enhance and broaden undergraduate research and education in integrated systems biology. During the summer of 2006, working with faculty and administration from VCU Life Sciences, the School of Medicine and Virginia AHEC (Statewide Area Health Education Centers), the CFR staff helped develop and submit a successful proposal for an interdisciplinary program for pre-college science education. HHMI recently awarded VCU a $750,000, five-year grant to increase math and science literacy for students in Central Virginia, enhance research and life sciences training for K-12 science teachers and expand Internet-based life sciences videos and lessons to teachers and students nationwide.
Mary Morton Parsons Foundation - VCU has received major gifts from this foundation totaling more than $2 million. In 2005, the CFR staff worked with the Massey Cancer Center to submit a proposal for a matching challenge grant to construct a Healing Garden on the roof of its new research center. Massey received a pledge of $750,000. In 2006, the CFR staff assisted the School of Business in developing a successful matching challenge grant proposal for $1 million to support its capital campaign for the Monroe Park Campus addition.
Alcoa - The CFR staff helped VCU Life Sciences develop and submit a proposal to Alcoa for K-12 teacher training at the Inger and Walter Rice Center for Environmental Life Sciences. In 2006, Alcoa provided $100,000 over two years to train teachers to incorporate field-based exercises in their classes on the subject of sustainable water resources.