Campaign giving news
Annual gifts bolster alumnus' planned giving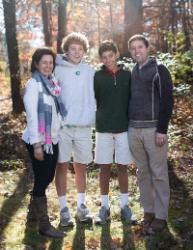 In 2012, Frances and Clay Coleman began making annual gifts to support a scholarship in the Department of Health Administration in the School of Allied Health Professions that was created by Clay's late uncle, E.L. "Buddy" Derring (B.S.'53; M.H.A.'58). Their most recent contribution to the Elwyn L. Derring Scholarship, in October 2016, was their sixth.
Derring established current scholarships in both the Department of Health Administration and the School of Business in 1997. Before his death in 2011, he made arrangements to leave a bequest to each school, transforming both scholarships into endowed awards.
With multiple family members having graduated from or worked at VCU, the Colemans have always felt connected to the school. Clay Coleman's twin brothers have master's degrees in health administration and patient counseling, respectively, and Frances Coleman's father, Duncan Owen, M.D., had a distinguished career in the VCU School of Medicine, where he held the Taliaferro-Scott Professorship in Internal Medicine. A professor emeritus of the Division of Rheumatology, Allergy and Immunology, he retired in 2000.
They grew closer to the university after their son had a tragic accident in 2011 requiring medical care at VCU. During and following his treatment, the Colemans were impressed by the outreach made by personnel from the Department of Health Administration checking on their well-being.
"The school has always kept in close touch with us and made us feel like part of the community," Coleman says, specifically recalling the kindness of Director of External Relations Beth Williamson Ayers (M.S.'91/E) and Richard M. Bracken Chair and Chairman Cindy Watts. "They went above and beyond their call of duty, providing care and counsel during our son's treatments there. It's a fantastic department and one that we feel honored to support."
To learn more about the School of Allied Health Professions, contact T. Greg Prince, senior director of development, at (804) 828-7247 or tgprince@vcu.edu.
Dogs on Call receives grant from Petco Foundation
The Petco Foundation recently awarded a $20,000 grant to Virginia Commonwealth University School of Medicine's Center for Human-Animal Interaction. The grant will enable the expansion of Dogs on Call, a VCU Health program that brings community volunteers and their certified therapy dogs to visit hospitalized patients, visitors, students and staff at VCU Medical Center.
"The Petco Foundation grant will enable us to build our Dogs on Call team capacity to provide comfort to hundreds more patients, visitors, families and staff at VCU Medical Center," says Sandra Barker, Ph.D., professor of psychiatry and the Bill Balaban Chair in Human-Animal Interaction at VCU School of Medicine.
Established at the VCU School of Medicine in 2001 and housed in the Department of Psychiatry, the Center for Human-Animal Interaction serves as a hub for interdisciplinary research, service and educational activities related to the human-animal relationship.
The center has received widespread coverage from international media outlets for its published academic journal articles documenting scientific evidence of reduced stress among health care professionals and reduced anxiety and fear in psychiatric patients at hospitals after interactions with therapy dogs, as well as reduced stress in the workplace among people who bring their dogs to work.
A version of this article was previously published in VCU News.
To learn more about the Center for Human-Animal Interaction, contact Lynn Meyer, director of development, at (804) 827-6297 or lynn.meyer@vcuhealth.org.
Grant supports initiative for at-risk youth
VCU Health has partnered with the Richmond Police Department to spearhead RVA Alternative Pathways, a new initiative to prevent youth violence. The proposed program was recently awarded a grant of $250,000 from the Robins Foundation as the runner-up for the Lora M. and E. Claiborne Robins, Sr. Community Innovation Grant.
RVA Alternative Pathways seeks to build a communitywide network of people, programs and agencies committed to reaching at-risk youth before they enter the juvenile justice system or need VCU Health trauma care. The result will be a coalition of service providers who will develop, monitor and measure an extensive referral system to prevent youth violence.
Created to inspire innovative solutions to community challenges and issues, the foundation's Community Innovation Grant attracted more than 100 applications from nonprofit organizations throughout the greater Richmond area since its inception in 2014. RVA Alternative Pathways was one of five proposals selected to receive funding from the grant in the 2016 competition. The Robins Foundation hopes the funding will spur a wave of transformative outcomes for children and families in the coming years.
"The foundation could not deny the impact each of the initiatives would have on the future of the Richmond community," says Juliet Shield-Taylor, vice president of the Robins Foundation board and chair of the grant selection committee. "With the efforts proposed by each, the children win and the transformation begins."
To learn more about RVA Alternative Pathways, contact James Parrish, director of foundation relations, at (804) 827-4454 or jtparrish@vcu.edu.
Stationery business rewards students for help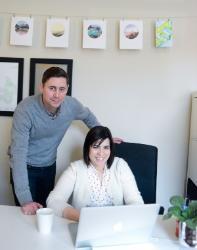 Lauren (M.S.'05/B) and Joel (M.S.'05/B) Gryniewski started their Minneapolis, Minnesota-based stationery business, Old Tom Foolery, shortly after graduating from the VCU Brandcenter. Last spring, after brainstorming for a new line of their signature "unsappy, uncrappy" greeting cards, they sought new voices to influence their work and knew they could depend on current Brandcenter students to realize their vision.
"The Brandcenter taught us to strive for something different than what's already out there, and that has always been our point of view at Old Tom Foolery," Lauren Gryniewski says. "That training had a major influence on the vision that we have for our products and helped us launch something that people notice in the marketplace."
Brandcenter students got valuable, real-world design experience contributing written content and design ideas for 12 of the cards in Old Tom Foolery's Color Commentary line.
"The students produced some great work," Joel Gryniewski says. "We knew we could depend on them to nail the tone we were looking for."
During the collaboration, the Gryniewskis pledged to support the Brandcenter's general student scholarship fund through an annual donation of a portion of the proceeds from the student-designed cards. This February, the first royalties were tallied up, and the Gryniewskis gave $529.31 to support Brandcenter students.
"The scholarships I received as a student made such a big difference for me," Lauren says. "I'm glad we can contribute in a way that helps reward students for their hard work."
To see the results of Old Tom Foolery's collaboration with VCU Brandcenter students, you can browse the full Color Commentary collection here.
To learn more about Brandcenter, contact Emily H. Toalson, director of development, at (804) 827-8868 or ehtoalson@vcu.edu.
Vulcan Materials supports lodge construction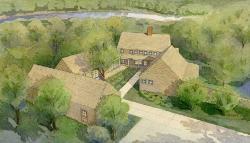 Vulcan Materials, the nation's largest producer of construction aggregates and a major producer of aggregates-based construction materials, donated 475 tons of rock aggregate to support the construction of a new overnight lodge at the VCU Rice Rivers Center.
The facility will provide accommodations for 25 to 30 visiting researchers, students and other groups, dramatically enhancing their ability to conduct their work on-site. The accommodations will also improve the center's ability to secure external funding for summer student programs that require overnight facilities.
The 5,000-square-foot Inger Rice Lodge is expected to be operational sometime this year.
"Vulcan Materials is an important user of the James River," says Rice Rivers Center Director Greg Garman, Ph.D. "The VCU Rice Rivers Center greatly appreciates Vulcan's long-term commitment to our mission, and we look forward to expanding that relationship."
A version of this story previously appeared in VCU News.
To learn more about the Rice Rivers Center, contact Catherine Dahl, director of development and special projects for VCU Life Sciences, at (804) 827-7372 or ccdahl@vcu.edu.
Teens pay tribute to teacher's beloved pet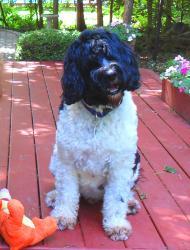 A thoughtful gesture from his students brought high school chemistry teacher Daniel Fisher much needed comfort as he grieved the loss of his beloved Portuguese water dog, Brady. After Brady passed away within Fisher's first month of teaching at St. Christopher's School, a college preparatory school for boys in Richmond, Virginia, students from Fisher's 10th-grade chemistry classes raised $100 to donate to a charity in Brady's memory.
"When Brady passed away, I'd only been teaching for three or four weeks," Fisher says. "I barely had the chance to get to know my students, but they were so thoughtful and caring. This gesture was an incredible testament to the character of these young men."
Fisher chose to support the Virginia Commonwealth University Center for Human-Animal Interaction with the gift. The center promotes interdisciplinary research, service and educational activities related to the relationship between humans and animals.
In 2015, Fisher and Brady were in the final stages of completing their certification as a therapy dog and handler team through the center's Dogs on Call program, which provides complementary canine-assisted therapy to patients at VCU Medical Center. Before they could complete their certification, Fisher was involved in a car crash. During his days in recovery at VCU Medical Center, he wanted nothing more than to have Brady at his side.
"Knowing how badly I wanted to see Brady while I was in the hospital, I figured it must be meaningful for other patients to have that kind of interaction with an animal," he says.
Soon after Fisher was released from the hospital, he and Brady completed their certification and spent one Sunday each month visiting patients on the same floor to which he was admitted after his crash.
"There is something so special about the comfort that people find in the company of an animal," Fisher says. "I can't think of a better way to honor Brady than by supporting research that allows patients to experience that comfort."
To learn more about the Center for Human-Animal Interaction, contact Sandra Barker, Ph.D., NCC, LPC, center director, professor of psychiatry and Bill Balaban Chair in Human-Animal Interaction, at (804) 628-8528 or sandra.barker@vcuhealth.org.
Graduate stipend helps next generation of artists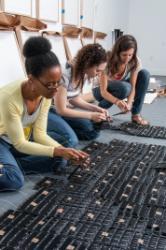 Sonya Clark joined the Virginia Commonwealth University School of the Arts faculty as chair of the Craft and Material Studies Department in 2006. Clark, who was attracted to the school because of its commitment to research in the arts, has done her part to reinforce that commitment through yearly gifts to fund a stipend for a graduate assistant in her department.
"It becomes a mentoring relationship," says Clark, who has given $60,000 toward the stipend since the start of the Make It Real Campaign for VCU in 2012. "The selected student functions as an assistant in my studio practice, so the person I'm helping also ends up helping me."
Clark's contributions are matched by the School of the Arts to provide tuition assistance for the graduate student.
During her graduate education at Cranbrook Academy of Art in Bloomfield Hills, Michigan, Clark held a fellowship that provided similar financial assistance. That allowed her to move forward in her career after graduation without substantial student debt, and she is happy to help other graduate students in the same manner.
"This sort of work is near and dear to my heart," Clark says. "I'm happy to put my money where my mouth is and support the next generation of artists."
To learn more about the School of the Arts, contact Julia Carr, executive director of development, at (804) 827-4676 or carrj@vcu.edu.
Faculty establish scholarship to honor colleague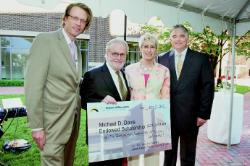 Michael C. Huffman, Ph.D. (M.S.'02/E; Ph.D.'12/H&S), along with other School of Education faculty and staff members, established a scholarship in 2012 to honor their colleague Michael D. Davis, Ph.D., whose service to VCU has spanned 37 years. Huffman has since made yearly contributions to the fund, most recently with a pledge of $1,500 in August 2016.
"Dr. Davis served as a faculty member, scholar, key administrator, dean and assistant to the provost," says Huffman, who worked with Davis in the School of Education and is now the director of the Office of Continuing and Professional Education at VCU. "He is the consummate colleague and professional, and education is his passion."
Huffman has given almost $9,000 to the scholarship since its creation and has supported numerous other VCU funds over the years.
"It's important to support the institution that has given me so much and the various endeavors of the university that can help young people achieve their goals in life and the education they need," Huffman says. "I certainly intend to continue that giving in the future."
The Michael D. Davis Scholarship in Urban Education awards up to $2,000 to one or two students each year who show an interest in working in an urban school and with students of diverse ethnic backgrounds.
Davis, who has remained involved in VCU's Office of Continuing and Professional Education since his retirement, values the opportunity the scholarship provides for future teachers who aspire to teach in inner city settings, noting that students in such schools are often those most in need of excellent teachers. He has made his own contributions to support the scholarship over the years.
"I consider the Scholarship in Urban Education to be one of the highlights of my career," he says. "Supporting the next generation of teachers is a wonderful legacy."
To learn more about the School of Education, contact Ed Kardos, senior director of development, at (804) 828-4692 or egkardos@vcu.edu.
Pharmacist honors son-in-law, pays it forward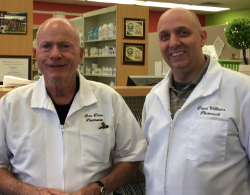 In 2006, Ronald Davis' (B.S.'73/P) son-in-law, David Williams (B.S.'97/P; Pharm.D.'06/P), graduated from the School of Pharmacy. To celebrate Williams' accomplishment, Davis established a scholarship in his honor with a gift of $10,000. In April 2016, he pledged an additional $25,000 to continue his support of the scholarship.
"I just felt a sense of pride when David graduated from the same school that I did," Davis says. "I was looking for something to do to help students who have, over the years, helped me."
In 1978, five years after his graduation from the VCU School of Pharmacy, Davis started accepting VCU students in rotation into his pharmacy, Tuckahoe Cardinal Drug, in Henrico, Virginia. Since then, Davis and his team, now located in Palmyra, Virginia, at Jefferson Pharmacy, have trained more than 500 VCU students.
"It's been a great relationship," Davis says. "We do the helping and the training, and at the same time, we get young people just coming out of school with all the knowledge in their head. We teach them what we know, and they teach us what they just learned. It's been a really good cooperative effort."
Davis is consistently impressed by VCU School of Pharmacy students and recent graduates.
"I've had the opportunity to see students from other schools, and VCU does an outstanding job," says Davis, who currently represents the School of Pharmacy on VCU's Make It Real Campaign Cabinet. "The students coming out of there are top quality."
The Ronald G. Davis and David L. Williams Pharmacy Scholarship awards $2,000 to one student each year, ensuring that future pharmacists with financial need can receive a quality education.
To learn more about the School of Pharmacy, contact Ellen Carfagno, director of development, at (804) 828-3016 or emcarfagno@vcu.edu.
VCU librarian invests in future of students, faculty
"A Vietnamese proverb says that when you eat a fruit, you have to remember the person who planted the fruit tree," says My Guidarelli, a catalog librarian in the James Branch Cabell Library at Virginia Commonwealth University.
This cultural belief has manifested itself in Guidarelli's many years of giving to VCU, including her recent pledge of $1,440 to the Library of the Future Fund made during VCU's recent faculty, staff and retiree giving campaign.
Guidarelli has worked at VCU for 23 years and considers the university her second home.
"I'm really a student at heart, and that's why I enjoy working in this academic environment," says Guidarelli, who is also an assistant professor in the metadata and discovery department and an adjunct instructor of French.
The Library of the Future Fund helps ensure that VCU's libraries can meet the needs of future generations of students by maintaining workspaces and furniture, providing educational resources and keeping pace with developments in technology.
"We try to provide our faculty and students with the best tools to encourage them in their academic and professional pursuits, but they are not the only ones who benefit from a strong library," Guidarelli says. "Libraries are a repository for human knowledge. They benefit the entire community by providing a gathering place for all to learn, teach and collaborate."
To learn more about VCU Libraries, contact Kelly Gotschalk (B.F.A.'90/A; M.A.'97/A), director of development and major gifts, at (804) 827-1163 or kjgotschalk@vcu.edu.
Couple honor friend with gift to VCU Libraries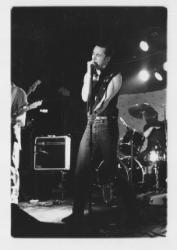 A tour of the James Branch Cabell Library's Special Collections and Archives inspired a gift from Ceci Hull (B.S.'89/H&S) and her husband, Doyle. Their $1,000 pledge was made in August 2016 in memory of their friend, Christopher Dean Fullerton (B.S.'91/H&S), who was killed in a car crash in 1997.
"Christopher loved Richmond, with its history and eclectic music scene," Hull says. "When I toured Special Collections, I saw the pages and pages of band handbills, photographs and issues of ThroTTle and The Commonwealth Times. Many memories came back to me."
The Special Collections and Archives provide access to rare publications and primary source materials, including book art, comic arts, manuscripts, books and periodicals. Fullerton wrote for The Commonwealth Times, VCU's student-run newspaper, and ThroTTle, a Richmond-based music magazine that was founded by VCU students in 1981 and ran until 1999. Fullerton's band, The Dixie Pigs, also played many of the clubs whose fliers are in the library's collection.
Their gift holds special significance to the Hulls, who continue to honor Fullerton's memory.
"We named our youngest son in honor of Christopher," Hull says. "Our oldest son, Jimmy, is a junior at VCU. As new buildings have replaced the ones from our days as students, I still think of Christopher as I walk through campus."
The Hulls' gift will be added to the Cabell Special Collections Endowment Fund and will assist in acquiring, cataloging and preserving rare Richmond materials for the use of the public.
Modified from a story by Kelly Gotschalk. See the original version here.
To learn more about the Special Collections and Archives in James Branch Cabell Library, contact Kelly Gotschalk (B.F.A.'90/A; M.A.'97/A), director of development and major gifts, at (804) 827-1163 or kjgotschalk@vcu.edu.
Mission-focused doctor supports service learning
When Janet Eddy, M.D. (M.D.'87/M), learned that VCU's service living-learning community, ASPiRE, was sending students to Belize, she gave $1,100 to provide supplemental funding for two students who otherwise could not afford the trip. In July 2016, 12 students, including two who benefited from Eddy's gift, ran a camp for 75 local children in Sandhill, Belize; stayed with host families; and traveled within the country to learn more about its history, ecology and culture.
Eddy traveled on medical missions abroad as a family physician for years, but a trip shadowing local midwives in Guatemala about 10 years ago allowed a true cultural exchange, and she saw community practices at work. Having worked with underserved communities in Richmond for the past 25 years, she came back from her trip to Guatemala with an expanded worldview and a deeper understanding of service.
Eddy wanted to give in a way that provides students an opportunity to expand their perspective on the world. ASPiRE's community-oriented and cultural exchange service trip presented the perfect opportunity.
In Richmond, ASPiRE students live in a dedicated dorm for two years while completing 100 hours of co-curricular service hours and take classes each semester that develop their knowledge, skills and disposition for community engagement.
"It's not just a do-good type thing," Eddy says. "The students who do ASPiRE work with the community get to know what the challenges are, and they try to do the work that the people who live in the community think will really help people they know.
"Whatever we can do to help, particularly in the areas of education and health, is really key to boosting people who grow up in poverty into the middle class and better health."
To learn more about VCU ASPiRE, contact Nannette Bailey, community partnerships coordinator, at (804) 827-2300 or nabailey@vcu.edu.
Professor honors mentor with scholarship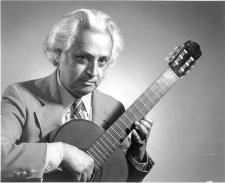 One of the first things John Patykula (M.M.'82/A) did as a newly appointed full-time professor at Virginia Commonwealth University was to establish a scholarship to honor his former teacher and mentor, Jesùs Silva.
Silva, who passed away in 1996, was a world-renowned guitar virtuoso. Patykula first met him as a student at the North Carolina School of the Arts, where Silva was a professor, in 1969.
"He was a wonderful teacher and a wonderful mentor, and when he came [to Richmond, Virginia,] in 1979, that's when I came up," Patykula says.
Silva became an artist-in-residence at VCU, and Patykula was his assistant for the three years of the residency. Also during that time, Patykula was an adjunct professor while completing his master's in music at VCU.
In 1989, after landing a full-time teaching position at VCU, Patykula created the Jesùs Silva Merit Scholarship Fund. Friends and former students of Silva also contributed to this scholarship fund and the fund's first awards were given to talented and dedicated guitar students in 1991.
Patykula has faithfully given to the fund since its creation and to other VCU Music programs over the years. Since the start of the Make It Real Campaign for VCU, his contributions to the scholarship and to the Guitar and Other Strings concert series have totaled $3,680.
He considers giving "part of being a teacher," citing Silva's teacher, Andrès Segovia, who gave free master classes. "He wanted to do what he could to help promote the guitar and to make sure that it continued. So it's a tradition, I think, with teachers. I think you find that with most teachers, not just guitar. They enjoy helping out."
To learn more about the School of the Arts, contact Julia Carr, executive director of development, at (804) 828-4676 or carrj@vcu.edu.
‌Donors boost support with planned gift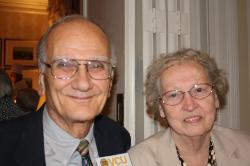 Longtime educators and supporters of Virginia Commonwealth University Miriam S. (B.S.'69/E; M.Ed.'76/E) and William E. "Bill" Blake, Jr., Ph.D., have included a $100,000 planned gift in their estate plan to continue to support the funds they have created over the years.
The couple's first gift to the university, in 1992, established the William E. and Miriam S. Blake, Jr. Lectureship in the History of Christianity in the College of Humanities and Sciences. It marked Bill's retirement from 27 years of full-time teaching at VCU, though he continued to teach as a professor emeritus until 2012. A scholarship for students interested in Reformation and medieval history was established in Bill's name in 2001, and in 2004, the William E. and Miriam S. Blake, Jr. Chair in the History of Christianity was endowed by one of his former students.
As a professor and a preacher, Bill values connecting with his audience and making history and theology relevant.
"Christianity, even for people of other religions or people with no religion, is part of so much that goes on in ordinary conversation and in the intellectual atmosphere," he says. "Art, music, architecture – you can't walk down the street without seeing evidence of Christianity. What does it all mean? How can you make sense of it? Both the Chair and the Lectureship are meant to help people understand the roots of it, see how it's operating now, and maybe see where it's headed."
In 2012, the couple created the Miriam S. Blake Scholarship in Early and Elementary Education to honor Miriam's career serving Hanover County, Chesterfield County and city of Richmond schools. It awards a minimum of $1,000 to one student in the School of Education each year. The selected student must demonstrate leadership qualities, show a strong need for financial assistance and be pursuing a teaching career in early and elementary education.
They have also donated numerous historical texts and personal items to VCU Libraries in the Cabell Special Collections and Archives, which the planned gift will also support.
"VCU has been our lives in many respects," William Blake says. "We continue to be excited about its present and future. We will continue to do what we can to further its growth and encourage others to do the same."
To learn more about planned giving, contact Doug McCartney, J.D., executive director of gift planning, at (804) 828-5563 or dwmccartney@vcu.edu.
VCU launches its largest fundraising campaign
Virginia Commonwealth University has launched the public phase of the $750 million Make It Real Campaign for VCU, the largest fundraising effort in the university's history.
The Make It Real Campaign for VCU will impact every aspect of the university: students, alumni, faculty and staff, patients, caregivers, researchers, schools, libraries, centers and institutes, athletics and the community. VCU President Michael Rao, Ph.D., announced the campaign's fundraising target at an event tonight at the James Branch Cabell Library.
"The Make It Real Campaign will transform VCU and help us continue to transform lives in Richmond and beyond," Rao said. "Our faculty, students, patients, community partners and everyone who crosses paths with VCU will benefit. Our translational and transformational research mission will continue to advance the human experience. Our facilities will meet the needs and match the talents of our people. Our world-class patient care will help more people live longer, healthier lives. We are a global university, and the impact of this campaign will be global."
The public phase of the campaign follows a silent period, which began July 1, 2012. VCU has raised $439.7 million since that soft opening. The campaign counts all funds raised through June 30, 2020. Because the Make It Real Campaign for VCU is a comprehensive fundraising initiative, every school and unit within the university has established a goal for the campaign. Donors can contribute to the campaign with a gift to these individual units or to VCU as a whole.
"The university plays a vital role in our city and region, serving a broad range of students, patients and citizens," said John Luke, rector of the VCU Board of Visitors. "This campaign provides an opportunity for all of us to support something at VCU, whatever our interests or passions may be."
Gifts to the campaign support critical initiatives that promise to become points of distinction for VCU long into the future. In particular, the campaign will fuel growth in three primary areas – people, innovations and environment.
People
Funds raised through the campaign will attract, support and retain the finest students and faculty through scholarships, professorships and endowed chairs. Money from the campaign also will provide students with purposeful, hands-on learning and living experiences, and faculty with support for startup research ideas.
Innovations
The campaign will help create new interdisciplinary partnerships and centers of excellence to offer students and faculty the right environments for meaningful research and learning experiences that will expand the university's ability to solve complex local and global challenges through inquiry and discovery.
Environments
Through funds raised during the campaign, VCU will provide world-class facilities, equipment and materials to expand the university's research capacity. In addition, the campaign will increase the impact and sustainability of VCU's community partnerships and its resources in education, health and workforce development.
"The ultimate goal of the Make It Real Campaign for VCU is to change lives," said Marti K. S. Heil, vice president for development and alumni relations at VCU. "Not just those of students and faculty, but those of the countless others touched by our graduates, researchers and educators in this community and farther afield. But we know that not everybody has the capacity to make a lifechanging gift. This campaign also aims to build our donor base by engaging more alumni and new friends, so that every gift, no matter the size, will help us bring about these powerful transformations.