Eco Experiences: Wading into Wetlands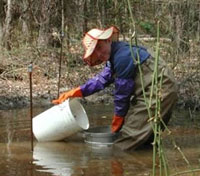 Wetland habitats provide numerous ecosystem services such as clean water, clean air, critical habitat for threatened and endangered species and increased regional biodiversity. They are among some of the most productive ecosystems on the planet. Come learn about these critically important, yet highly imperiled, wetland ecosystems while you engage in hands-on exploration of some diverse and unique wetland resources located at the VCU Rice Rivers Center.
When: 10 a.m.-1 p.m. Saturday, Oct. 4
Where: VCU Rice Rivers Center, 3701 John Tyler Memorial Highway, Charles City County, VA 23030
Hip-waders will be provided as we investigate forested and herbaceous dominated tidal/nontidal and ephemeral wetlands along the banks of the James River. Be sure to bring or wear shoes or boots you don't mind getting muddy, in the event that the hip waders available are not suited to your foot size.
Please feel free to bring a picnic lunch to enjoy overlooking the river!
In the event of inclement weather, we will contact you. For more information, contact Ed Crawford at ercrawford@vcu.edu or 804-828-9796.
Registration is closed.