2021 Excellence in Virginia Government Awards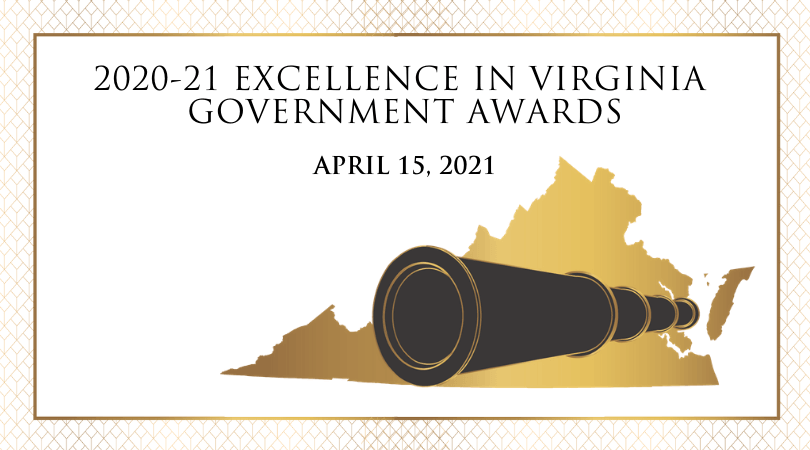 The L. Douglas Wilder School of Government and Public Affairs at Virginia Commonwealth University is pleased to announce the Excellence in Virginia Government Awards recognition program. EVGA celebrates people and organizations in the public and private sectors who have made significant contributions to the practice of government and the well-being of our communities and citizens.
The program will be virtual; it will be recorded and shared by the VCU Wilder School.
EVGA sponsorships support scholarships for two deserving students each academic year. The program and these scholarships are solely funded by financial sponsorships and contributions.
When: Noon EDT, Thursday, April 15
Where: Via Zoom; link emailed to registrants.
Learn more about sponsorship opportunities.
For general questions or special accommodations, contact Katie Huynh (B.S.'11/B), events and messaging strategist, at huynhkp@vcu.edu.
Award recipients
Award title
Recipient
Lifetime Achievement Award
The Hon. Robert C. Scott
Hill-Robinson Expansion of Freedom
A.E. Dick Howard
Grace E. Harris Leadership
John C. Purnell Jr. (M.S.W.'64/SW; M.P.A.'78/GPA)
Unsung Heroes
Cristina Dominguez Ramirez (M.P.A.'10/GPA),
Library manager, Henrico County Libraries
Community Enhancement
Health Brigade
Karen Legato (M.S.W.'95/SW), executive director
Public-Private Partnership
Virginia Housing
Susan Dewey, CEO
Innovation in Government
Virginia Department of Juvenile Justice
Valerie Boykin, director