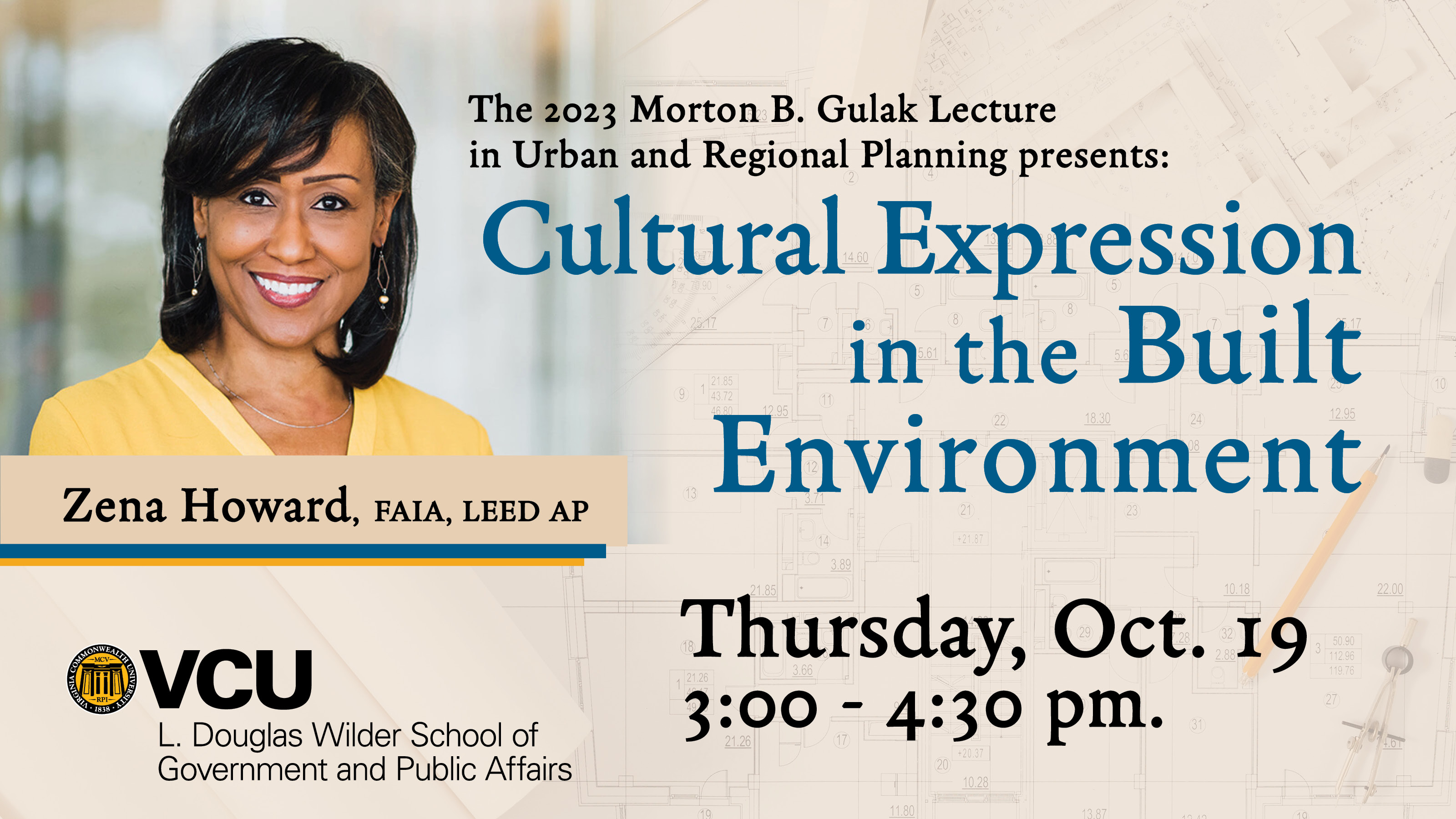 Gulak Lecture: Cultural Expression in the Built Environment
When: 3-4:30 p.m. Thursday, Oct. 19
Where: VCU Student Commons, Commonwealth Ballrooms, 907 Floyd Ave., Richmond, VA 23284
Free and open to the public.
Join architect Zena Howard for an exploration of individual and shared experiences at the intersection of urban design, art, history, anthropology and public policy.
About the speaker
Zena Howard, FAIA, LEED AP, is principal and managing director with the architecture and design firm Perkins&Will.
Howard's career has been defined by visionary, complex and culturally significant projects such as the Smithsonian Institution's National Museum of African American History and Culture in Washington, D.C., and The Durham County Human Services Complex in Durham, North Carolina, that navigate social issues of dignity, equity and justice in cultural and civic places. She has been recognized as a citizen architect for shaping architecture through "remembrance design," a design process that responds to inequity and injustice by restoring lost cultural connections and honoring collective memory and history.
She recognizes both the shared and individual sense of experience in the built environment — the emotional connection between people and spaces. This guides her role as global cultural and civic practice chair and a body of work that unifies communities, strengthening public well-being and advancement.
Curiosity and compassion also drive Howard's approach with teams. She embraces cross-disciplinary collaboration with a broad range of specialists in urban design, art, history, anthropology and public policy. As a founding member of Perkins&Will's global Diversity and Inclusion Council and through advocacy and mentoring, she advances diversity within the architecture profession.
About the Gulak Lecture
The Wilder School brings leading experts in planning, architecture or urban design to VCU each year through the annual Morton B. Gulak Lecture in Urban and Regional Planning.
Launched in 2013, the lecture series honors the memory of Morton B. Gulak, Ph.D., who helped found the Master in Urban and Regional Planning program more than 40 years ago.
Gulak, who died in 2012, taught at VCU for 38 years. He inspired legions of students in the areas of urban design, urban revitalization, physical planning and the application of professional planning methods.
Registration is limited.
Questions? Contact Katherine Huynh, events and messaging strategist, at huynhkp@vcu.edu.
Registration is closed.