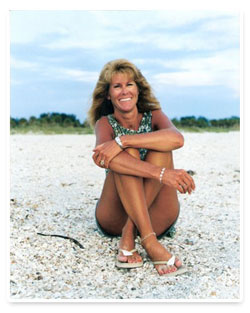 Cindy Easter 1959-2012
Make a Gift
My mother, Cindy, was diagnosed with stage IV colon cancer in 2006 soon before her 47th birthday. The cancer metastasized to her ovaries in 2008 and embedded in her abdominal muscle by 2009. By 2010, it was in her lungs, then the lymph nodes.
Cindy underwent three major surgeries, six series of chemo treatments, 33 days of radiation, and countless scans and biopsies. By the end, she'd seen five specialists and was on seven prescriptions to manage nausea, anxiety and other unpleasantries. She lost her hair (twice) and the feeling in her feet (permanent). Neuropathic pain and chemo brain were daily encumbrances.
In July 2012, cancerous fluid began to collect around the heart and lungs. Cindy suffered from shortness of breath, fatigue and decreased heart capacity.
She spent her final days at home with her family under hospice care before passing on August 28, 2012.
In honor of my mother, I am embarking on a Year Long Race to fund cancer research: 12 half marathons, $10,000 goal, one mission.
I'm racing against cancer. Join the fight.