Molar Roller Reunion Road Ride
Saturday, April 20, 2013
8-11 a.m.
Rolling from the School of Dentistry Courtyard
Join "Team Dentistry" for a fun-filled, scenic cycling outing. Chose between either a 50-mile ride or a 15-25 mile ride.
50-mile ride: A swift-paced ride (16-20 mph pace) through some of Richmond's historic battlefields
18-mile ride: A leisurely paced ride touring many of the highlights Richmond has to offer (great views of the James River, historic Hollywood Cemetery, the Canal Walk and more!)
Check online here for routes for routes and download to your GPS:
Drinks, fruit and snacks will be provided at a midway break area. 
Lunch will be provided at the conclusion of the ride at the SOD courtyard.
Free bike rentals available, helmet included (if registered before Wednesday, April 17).
Easy bike dropoff at courtyard entrance (under Perkinson Building).
Check out a video of last year's event: http://www.youtube.com/watch?v=khNQEyZPRmU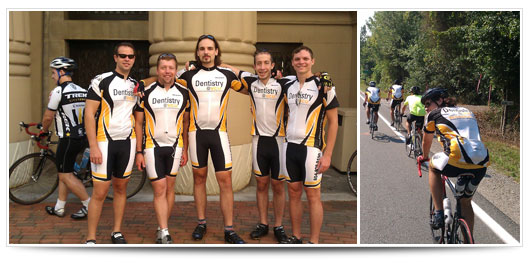 Registration is closed.