Universitywide development and communications staff
School of Pharmacy
Visit the School of Pharmacy website.
Ellen Carfagno
Director of Development
Phone: (804) 828-3016
Email: emcarfagno@vcu.edu
View bio
Ellen Carfagno was born and raised on Long Island and received her B.A. from the State University of New York at Geneseo. She received her M.S. in business communication from Radford University and joined Virginia Commonwealth University in 2001.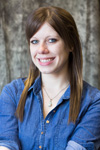 Stephanie Monn
Gift Stewardship and Special Events Coordinator
Phone: (804) 827-2524
Email: smonn@vcu.edu
View bio