Universitywide development and communications staff
School of Pharmacy
Visit the School of Pharmacy website.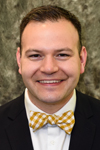 Louie A. Correa
Senior Director of Development
Phone: (804) 828-6081
Email: lacorrea@vcu.edu
View bio
Correa joined the development team in March of 2015. He has 14 years of experience in development and nonprofit management. Prior to joining VCU, he served as chief executive officer of Project 375 (formerly The Brandon Marshall Foundation) based in Chicago. He also served as an associate consultant for Campbell & Co., a fundraising consulting firm based in Chicago, where he worked with many arts and higher education clients throughout the U.S. Prior to his time in Chicago, Louie spent nearly a decade in Indianapolis in development roles with The Children's Museum of Indianapolis and The TKE Foundation. He has authored articles in Advancing Philanthropy and chapters in Giving USA. He has a master's degree from the Lilly School of Philanthropy at Indiana University (2010) and bachelor's degrees in rhetoric and English from the University of Illinois (2002).
Greg Weatherford (B.S.'95/MC; M.F.A.'12/A)
Director of Communications
Phone: (804)828-6470
Email: goweatherfor@vcu.edu
View bio
Jessica Lee Sorensen
Leadership Engagement Officer
Phone: (804) 828-4246
Email: jlsorensen@vcu.edu
View bio
Sorensen previously served as development coordinator for VCUarts. After receiving her B.S. in sociology from James Madison University in 2010, she interned for the summer with the VCU donor relations team. Following her experience at the VCU Foundation, she became the administrative assistant to the dean of external affairs at the VCU School of Business from August 2010-January 2013. She is a native of Richmond.